Comprehensive Textbook of Psychotherapy: Theory and Practice: Second Edition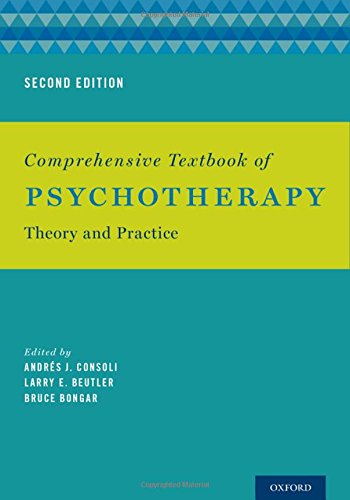 Book Details
Publisher : Oxford University Press
Published : 2016
Cover : Hardback
Pages : 560
Category :
Individual Psychotherapy
Catalogue No : 40388
ISBN 13 : 9780199358014
ISBN 10 : 019935801X
Also by Larry E. Beutler

Also by Bruce Bongar

This completely updated second edition of Comprehensive Textbook of Psychotherapy discusses the contemporary landscape of psychotherapy, honors its complexities, and focuses on history, theory, science, practice, and diversity. The book is divided into three parts: (1) Models of Psychotherapy; (2) Psychotherapy by Modalities and Populations, and (3) Research Methods and Randomized Clinical Trials, Professional Issues, and New Directions in Psychotherapy.
Part 1 has been expanded to include two chapters on Interpersonal Psychotherapy (IPT). This section now details the similarities and differences that exist across models, in an effort to articulate overarching principles of human change and stability processes that are advanced through professional practice. Chapters in Part 1 are organized into sets of two; each set has a theory chapter covering one of the six psychotherapy models discussed, followed by a practice chapter that conveys and illustrates the use of the model in a specific application, including a detailed case example.
Part 2 addresses modalities of psychotherapy such as group, family, and electronic-based approaches, as well as psychotherapy with specific populations such as children and adolescents, older adults, and women. This section, too, has been expanded to include treatment of people in the schizophrenia spectrum, a chapter on treatment of immigrants and refugees, and another on working with men. There are also new chapters on working with military personnel and veterans, and a chapter on treating survivors of trauma, specifically on those exposed to mass trauma. Still another new chapter is included on working with psychological emergencies.
Part 3 covers research methods and randomized clinical trials, the training of psychotherapists, ethics and legal matters, and the future of psychotherapy. Research and diversity are emphasized in each chapter and throughout the book.
This new edition of a classic textbook will be valuable to instructors and students, psychotherapists-in-training, practitioners, and supervisors alike.
You may also like