Cognitive Behavior Therapy of DSM-IV-TR Personality Disorders: Highly Effective Interventions for the Most Common Personality Disorders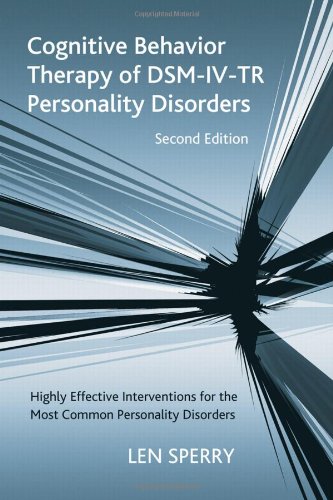 Also by Len Sperry

This volume specifies a number of effective and realistic treatment strategies that focus on both the temperament and character dimensions of personality and degree of severity of the disorder. Case studies illustrate the process of treatment for each of the disorders.
Cognitive Behavior Therapy of DSM-IV-TR Personality Disorders is a timely addition to clinical practice, as personality disorders have received steadily increasing attention in recent years and Cognitive Behavior Therapy is now the most widely practiced theoretical orientation. Thoroughly revised from the first edition, the book offers an overview of the field, with significant updates to reflect the most recent advances in CBT in the treatment of personality disorders. Invaluable as both a text and a professional reference, it emphasizes developmental psychopathology and integrative CBT treatment conceptualizations. It provides busy clinicians with the most effective practical clinical strategies - illustrated with compelling case material - that they need to work effectively with personality-disordered individuals.
About the Author(s)
Len Sperry, MD, PhD is a Professor of Mental Health Counseling at Florida Atlantic University in Boca Raton, Florida and Clinical Professor of Psychiatry and Behavioral Medicine at the Medical College of Wisconsin in Milwaukee. He has some 600 publications including 60 professional books. He is on the editoral board of the American Journal of Family Therapy, The Family Journal, and the Journal of Marital and Family Therapy.
You may also like