Cognitive Behavior Therapy for Insomnia in Those with Depression: A Guide for Clinicians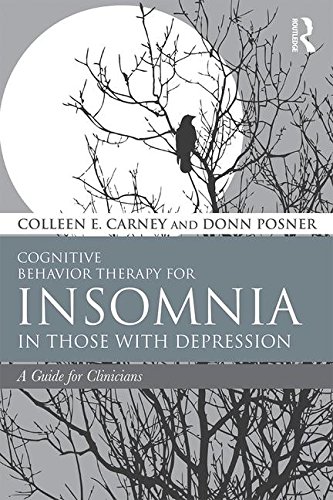 Book Details
Publisher : Routledge
Published : 2015
Cover : Paperback
Pages : 224
Category :
Cognitive-Behavioural Therapies
Catalogue No : 38139
ISBN 13 : 9780415738385
ISBN 10 : 0415738385
Also by Colleen E. Carney
Cognitive Behavior Therapy for Insomnia in Those with Depression is the book for clinicians who recognize that insomnia is more often a comorbid condition that merits separate treatment attention. These clinicians know that two thirds of those who present for depression treatment also complain of significant insomnia and that one third of such patients are already taking sleep medication, and they may be familiar with the research showing that treating insomnia is often important in the management of depression. But what strategies should clinicians use for treating insomnia? How can motivation be enhanced? What about medications?
Students and professionals alike will find the pages of this book replete with advanced tools to address the adherence problems often encountered in this group, and they'll come away from the book with a wealth of techniques for improving both sleep and overall symptom management as well as for treating the insomnia that occurs in comorbid disorders.
About the Author(s)
Colleen E. Carney, PhD, is an associate professor in the department of psychology at Ryerson University and the director of the Sleep and Depression Laboratory in Toronto, Canada. She was previously on faculty at Duke University Medical Center, where she was awarded the prestigious National Sleep Foundation Pickwick Fellowship and where she also established the Comorbid Insomnia Clinic. She is the president of the Behavioral Sleep Medicine Special Interest Group of the Association for Behavioral and Cognitive Therapies and a fellow of the Canadian Psychological Association. She is also certified in cognitive behavior therapy by the Canadian Association for Cognitive and Behavioral Therapies, and is an active writer, presenter, and workshop trainer.
More titles by Colleen E. Carney
Donn Posner, PhD, is currently working at the Palo Alto VA on clinical research in insomnia. Before this he served as a clinical associate professor of psychiatry at the Warren Alpert Medical School at Brown University and as director of behavioral sleep medicine for the Sleep Disorders Center of Lifespan Hospitals. Dr. Posner is a member of the American Academy of Sleep Medicine and is one of the first certified behavioral sleep medicine specialists recognized by that group. He is also a founding member of the Society of Behavioral Sleep Medicine and was recently awarded the society's Peter Hauri Career Distinguished Achievement Award.
You may also like