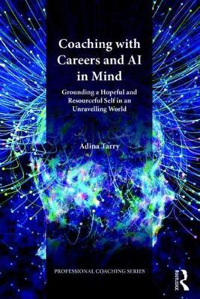 Book Details
Publisher : Routledge
Published : July 2018
Cover : Paperback
Pages : 320
Category :
Coaching
Catalogue No : 40082
ISBN 13 : 9781782205838
ISBN 10 : 1782205837
This book presents an integrated overview of work and career options for individuals caught in the wider context of an unravelling world and a new world of work - impacted by the fourth digital revolution - and the tension this context creates. This is followed by a positive message for a way forward that can be found by building a strong personal core, as a point of reference that enables change and flexible adaptation, to meet the future with hope and a better chance for survival and success.
The book brings together an integrated view of extensive career coaching experiential findings, related and relevant scientific thinking, research-based information about the future of the world and of work in the age of the fourth digital revolution, and a call to action for ways to adaptively and positively respond to the seismic changes that await us in the foreseeable future.
The book captures the Zeitgeist of this new transitional age and the dilemmas and challenges that individuals face in the context of global change and uncertainty, the major shifts in jobs and professions and the ubiquitous impact that the digital revolution is having, by changing the world at an unprecedented pace and in unpredictable ways.
The central message of this book is that the development of a strong and resilient self, as an individual capability to constructively deal with uncertainty, is the key adaptive and flexible response to uncertainty. A strong personal core supported by dialectic and complex thinking, clear values and beliefs, positive attitudes and aspirations held by a positive and self directed self with ability to find purpose and make meaning, are all the "must have" attributes necessary for survival and success, at this dawn of a new digital age.
About the Author(s)
Adina Tarry is a Business Psychologist, Professional Coach and Visiting Lecturer. Her thinking and practice are informed by extensive international business experience, applied business psychology, an academic activity, and extensive continued personal and professional development. Adina's approach to life and work is integrative, combining strategy and tactics, drawing from multiple sources, all integrated by dialectic philosophy and complex systems theory, which in her view create a more adequate reflection of the world.
You may also like