Coaching in Government: Stories and Tips for Coaching Professionals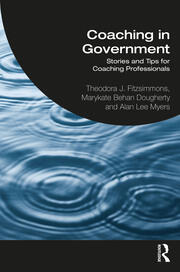 Book Details
Publisher : Routledge
Published : December 2022
Cover : Paperback
Pages : 254
Category :
Coaching
Catalogue No : 96931
ISBN 13 : 9781032112237
ISBN 10 : 9781032112
This book captures the story of how internal coaching was introduced and has since evolved in the U.S. Federal Government. It provides coaches and government agency leaders with skills and tools to help them implement their own successful coaching programs.
Written by leaders in the field, the book follows the stories of several pioneers who have implemented coaching programs in government, aiming to help coaches learn from their mistakes and gain from their wisdom. Filled with interviews, case studies, reflective questions, and how-to action points, each chapter accessibly highlights the successes and failures of each program's journey so that professionals can incorporate these lessons in their own practice. Chapters take readers from the beginning considerations to contemplating the future of their programs, focusing on setting a vision, overcoming issues and challenges, leveraging predictors of success, making key decisions, building foundations for sustainability, and creating continuing education for sustainment of change. Accessible and relatable, these stories will help professionals learn from those that have come before them, helping them begin the groundswell of change effectively and proactively in their own programs.
This book is essential reading for coaches and government agency leaders, as well as for any public sector agency and any private sector organization that is interested in implementing coaching.
You may also like