Climate Change Is Racist: Race, Privilege and the Struggle for Climate Justice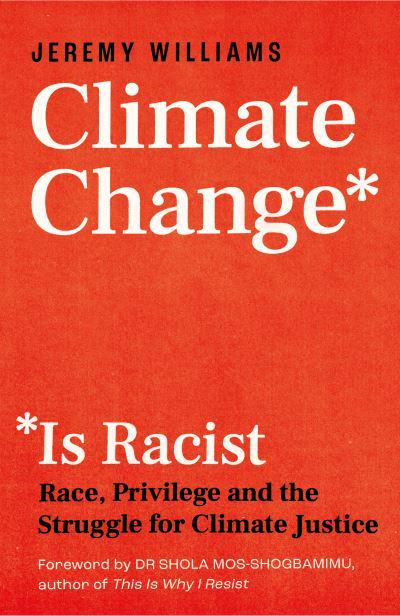 Book Details
Publisher : Icon Books
Published : June 2021
Cover : Paperback
Pages : 208
Category :
Environmental-activism
Catalogue No : 96350
ISBN 13 : 9781785787751
ISBN 10 : 1785787756
When we talk about racism, we often mean personal prejudice or institutional biases. Climate change doesn't work that way. It is structurally racist, disproportionately caused by majority White people in majority White countries, with the damage unleashed overwhelmingly on people of colour. The climate crisis reflects and reinforces racial injustices. In this eye-opening book, writer and environmental activist Jeremy Williams takes us on a short, urgent journey across the globe - from Kenya to India, the USA to Australia - to understand how White privilege and climate change overlap. We'll look at the environmental facts, hear the experiences of the people most affected on our planet and learn from the activists leading the change. It's time for each of us to find our place in the global struggle for justice.
Reviews and Endorsements
"Really packs a punch" ― Aja Barber, author of Consumed: The Need for Collective Change: Colonialism, Climate Change, and Consumerism

"Will open the minds of even the most ardent denier of climate change and/or systemic racism. If there's one book that will help you to be an effective activist for climate justice, it's this one" ― Dr Shola Mos-Shogbamimu

"Climate Change Is Racist is a significant intervention in climate change studies and activism. Jeremy Williams crafts an accessible, intersectional analysis that is essential reading for those seeking to diversify climate change activism and confront historical, structural racism(s)" ― Professor Robert Beckford, Director of the Institute for Climate and Social Justice, University of Winchester
About the Author(s)
Jeremy Williams writes serious books for adults, and less serious books for children.

He grew up in Madagascar and Kenya, and moved back to Britain on completing high school. He went on to study journalism, international relations and cultural studies, and now lives in Luton, UK.

Jeremy's diverse portfolio of work includes writing and editing books, supporting social enterprise, research, climate activism, and freelance projects with organisations such as Oxfam, RSPB and WWF. His blog, The Earthbound Report, has twice been named Britain's best green blog.
You may also like