Childhood Abuse Body Shame and Addictive Plastic Surgery: The Face of Trauma.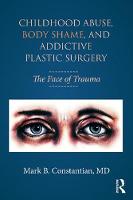 Book Details
Publisher : Routledge
Published : December 2018
Cover : Paperback
Pages : 342
Category :
Clinical Psychology
Category 2 :
Trauma and Violence
Catalogue No : 94042
ISBN 13 : 9781138100312
ISBN 10 : 9781138100
Childhood Abuse, Body Shame, and Addictive Plastic Surgery explores the psychopathology that plastic surgeons can encounter when seemingly excellent surgical candidates develop body dysmorphic disorder postoperatively. By examining how developmental abuse and neglect influence body image, personality, addictions, and adult health, this highly readable book uncovers the childhood sources of body dysmorphic disorder. Written from the unique perspective of a leading plastic surgeon with extensive experience in this area and featuring many poignant clinical vignettes and groundbreaking trauma research, this heavily referenced text offers a new explanation for body dysmorphic disorder that provides help for therapists and surgeons and hope for patients.
You may also like