Child and Adolescent Psychotherapy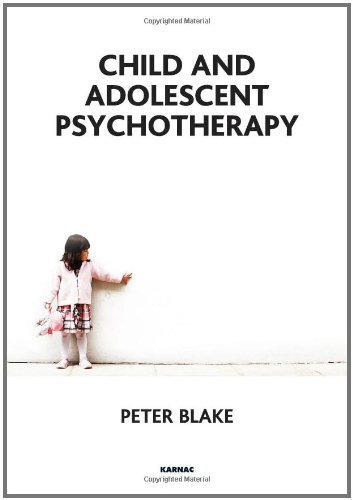 Book Details
Publisher : Karnac Books
Published : 2011
Cover : Paperback
Pages : 344
Category :
Child and Adolescent Studies
Catalogue No : 30466
ISBN 13 : 9781855758988
ISBN 10 : 1855758989
In this book, Peter Blake articulates his clinical practice of child and adolescent psychotherapy. A clear conceptual framework and historical context is provided for the work. The book is then structured to follow the therapeutic process, from assessment (referral and initial interview, individual assessment, developmental considerations, assessment for therapy, working with parents) to therapy (physical and mental settings, interpretation, the role and challenges of play, transference and countertransference, termination). Drawing on the Winnicottian tradition, in which fun and humour have a place in child and adolescent work, Blake demonstrates how a therapist can be playful and less directly interpretative. How psychodynamic thinking can be applied in an effective yet time-limited manner is also demonstrated. The text is enlivened by many case studies and clinical anecdotes.
For therapists who are new to child and adolescent psychotherapy, and who wish to take a psychodynamic approach, the book will provide a valuable introduction. For professionals who refer to or work with child and adolescent therapists, the book will provide insight into the field, dissipating much of the mystique and misunderstanding that surrounds this work. Experienced child and adolescent therapists will find of interest how Blake integrates a Kleinian, Object-Relations approach with more Interpersonal (now, Relational) thinking.
Reviews and Endorsements
'Child and Adolescent Psychotherapy is a practical book. It is also a personal book: "My aim is not to suggest how child psychotherapy should be practised - this would be absurd. In this field no one has all the answers. You only have to see children and adolescents for a short time to realise how difficult it is to know what is really going on. Rather, by describing the way I work, readers will hear what I have done, what has worked and not worked for me over 36 years."
- Peter Blake

'An original and exciting description of child psychotherapy at its best and a masterly contribution to the literature.'
- Anne Alvarez, psychotherapist, author of Live Company: Psychoanalytic Psychotherapy with Autistic, Borderline, Deprived and Abused Children

'A highly informative, refreshing work that should appeal to beginners seeking a model of therapeutic work with children to draw from, in addition to experienced child psychotherapists keen to reflect on their own practice with children and adolescents. It achieves its aim of seeking to make the practice of child and adolescent psychotherapy more transparent.'
- Marita Lowry, Royal Children's Hospital, Melbourne, Australia, from a review published in Psychotherapy in Australia, February 2009
About the Author(s)
Peter Blake is a clinical psychologist and Tavistock-trained child psychotherapist. He has thirty-six years of experience in working in the area of child and family mental health, in England and Australia. Peter is currently Director of the Institute of Child and Adolescent Psychoanalytic Psychotherapy, a professional body that offers training in child and adolescent psychotherapy in Sydney. Peter also works in private practice in Sydney.
You may also like