Caged in Chaos: A Dyspraxic Guide to Breaking Free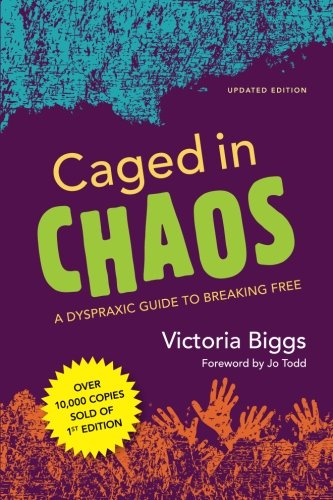 Written by a teenager with dyspraxia, this is a humorous and inspiring practical guide for young adults with dyspraxia and those around them trying to get to grips with the physical, social and psychological chaos caused by developmental co-ordination disorders (DCDs).
In her own conversational style, Victoria Biggs explains the primary effects of dyspraxia - disorganization, clumsiness and poor short-term memory - as well as other difficulties that dyspraxic teenagers encounter, such as bullying and low self-esteem. Peppered with personal stories from other teens, this award-winning book offers down-to-earth advice on a wide range of adolescent issues, from puberty, health and hygiene to family life and making friends.
The new edition includes an update from the author on her university and work experiences and how dyspraxia affects her now as an adult. Her positive approach and profound empathy with others in her situation make this book a must-read.
Reviews and Endorsements
'This charming and fun book offers a comprehensive account of dyspraxia together with plenty of practical tips and pithy quotes from other dyspraxic teenagers recounting their personal experiences... includes a list of useful addresses and websites for information and support on bullying, advocacy, driving, education, independent living and mental health. I highly recommend Caged in Chaos to all those affected or involved with dyspraxia, particularly parents and teachers.'
- Jacqueline Martin ask - C.A.R.E. Centre

'Caged in Chaos puts into words what professionals have been unable to, articulating the voices of many of the young people I have had the privilege of working with. The book touches the frustration, pain, humour, and resilience that come with having a cognitive profile consistent with dyspraxia. Adult readers can hear the echoes of their own experience and the young are reassured they are not alone. The pick and mix solutions for day-to-day issues gives just the right level of practical advice.'
- From the foreword by Jo Todd, CEO of Key 4 Learning

'Written when Victoria was 16 years old, this book is her personal story and one that young people with dyspraxia will all relate to. Inside the book there are many wonderful quotes from people who have dyspraxia. It's fun, easy to read and creatively written, full of tips to help with home life and school.'
- Jessica Starns, founder of Dyspraxic Me, a support group for young people with dyspraxia

'Caged in Chaos is a truly inspiring but humorous book written by a teenager which is aimed at helping other teenagers with dyspraxia. It is a true survivor's guide to how to succeed and follow your dreams regardless of the things which hold you back. I would recommend this book to all young people regardless of their backgrounds. Victoria is a great role model and bravely writes about subjects which most teenagers would keep silent about such as how to deal with periods, first romantic crushes and wardrobe malfunctions. It should be essential reading in all secondary school libraries.'
- Maureen Boon, former Headteacher and author of Understanding Dyspraxia and Can I Tell You About Dyspraxia?

Praise for the first edition:

'I am currently developing new academic programmes and I hoped by reading a personal account of dyspraxia that I would be able to develop some understanding and insight into the condition, which would ultimately inform my teaching. I was not disappointed. This is a book that leaves you with a very strong impression of the impact of dyspraxia on people's lives.'
- The Higher Education Academy

'Caged in Chaos is peppered with illustrations and words written by children and young people with dyspraxia and other learning difficulties, and it is easy to understand how helpful Victoria's insights and explanations will be to other dyspraxics, their parents, teachers and other people involved in their lives. The advice Victoria gives is practical and down to earth; she deals with everyday issues such as social skills, body language, health and hygiene, puberty, relationships and family life.'
- Dyspraxia News
About the Author(s)
Victoria Biggs was sixteen years old when she wrote Caged in Chaos. She went on to study English at the University of Cambridge. She has subsequently been a learning support worker for young people with moderate to severe learning disabilities and has taught creative writing to women experiencing trauma-related mental health problems. Now in her twenties, she is completing a doctorate at the University of Manchester, researching how storytelling can be used to support children living with war and violence.
You may also like