Bion's Legacy: Bibliography of Primary and Secondary Sources of the Life, Work and Ideas of Wilfred Ruprecht Bion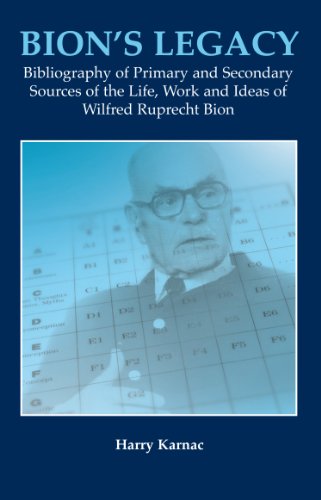 Book Details
Publisher : Karnac Books
Published : 2008
Cover : Paperback
Pages : 220
Category :
Psychoanalysis
Catalogue No : 26508
ISBN 13 : 9781855756762
ISBN 10 : 1855756765
Also by Harry Karnac


Paperback
£12.59
Usually despatched within 4-5 working days
Free delivery worldwide

This book forms a comprehensive bibliography of the works of W. R. Bion, and the other works that made some bearing of his life and thought. With considerable renewed interest in Bion's contribution to various disciplines beyond the psychoanalytic and psychotherapeutic, this work will be of use to practitioners, researchers and students.
Reviews and Endorsements
'Harry Karnac has now turned his thoroughness to the task of constructing a master list of bibliography for psychoanalytic writers. He has already tackled the works of Winnicott. Now he has constructed the bibliography of the complete works of Bion and, which is far more daunting, a significant list of accessory authors whose works importantly relate to Bion. After one peruses these lists, one cannot help being impressed by Karnac's bibliophilic dedication and the extent of his labors. He has become a reference librarian extraordinaire.

Reading down the list of accessory authors is like surfing the Internet and experiencing the marvel of landing on unexpected websites reflecting so many different perspectives of Bion's extensive episteme.'
- James Grotstein, from the Preface

About the Author(s)
Harry Karnac (1919 - 2014), the founder of Karnac Books, began to specialise in psychoanalytic bookselling at the suggestion of Clifford Scott and Donald Winnicott - both customers in Karnac's Gloucester Road shop - and, despite retiring in the 1980s, retained his interest in psychoanalysis throughout his life, culminating in the compilation of extensive bibliographies on Winnicott, Bion and Klein.
You may also like