Being and Listening: Counselling, Psychoanalysis and the Ontology of Listening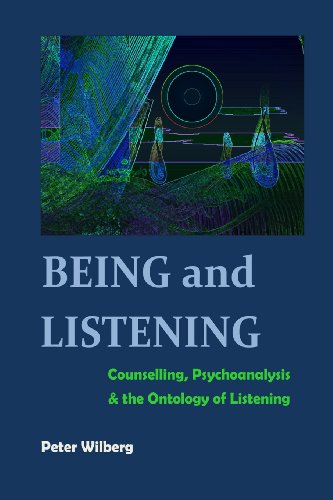 Book Details
Publisher : New Yoga Publications
Published : 2013
Cover : Paperback
Pages : 186
Category :
Counselling
Category 2 :
Psychoanalysis
Catalogue No : 35604
ISBN 13 : 9781483920856
ISBN 10 : 1483920852
This book, the oldest and first of several publications by Peter Wilberg on the ontological dimension of listening in both psychotherapy and somatic medicine, is dedicated to the fulfilment of Martin Heidegger's hope that his thinking would "…escape the confines of the philosopher's study and become of benefit to wider circles, in particular to a large number of suffering human beings."
The German word for listening (zuhören) belongs to a family of words including 'to hear' (hören), to belong (gehören) and 'belonging together' (Zugehörigkeit). The essential unity or 'belonging together' of 'Being and Listening' was nowhere more strikingly affirmed than in a saying of the German thinker Martin Heidegger: "We hear, not the ear." This saying indicates that it is not bodies or ears but beings that hear. It also hints at a dimension of 'belonging together' or 'we-ness' in the activity of hearing and of listening. For how a human being addresses us, what they say to us – and the manner in which they say it – is itself and already a response to the way in which we are or are not listening to and 'hearing' them – the wavelength of our listening attunement to them. Conversely, as Heidegger goes on to say: "...if we hear, something is not merely added to what the ear picks up; rather, what the ear perceives and how it perceives will already be attuned (gestimmt) and determined (bestimmt) by what we hear..."
Such a Heideggerian 'language of listening', which speaks in a German vocabulary, may be unfamiliar to those whose approach to counselling is shaped by terminologies derived from Freud, Rogers or new 'cognitive' therapies. Yet it has a power to radically deepen our experience of what we call 'listening'; allowing us to understand it merely as a prelude to some form of therapeutic response – nor as a one among other counselling 'skills' or 'techniques' – but rather as our most primordial way of 'being with' and 'bearing with' another human being in pregnant silence. It through this capacity to patiently 'be' and 'bear with' another person's suffering that they in turn can come to be with and 'bear' it in a more patient way – thus granting it time to bear forth or give birth, not just to newly felt questions and insights, but to a whole 'inner bearing' towards their life world and relationships, i.e. to a new way of being – one itself rooted in a new way of listening.
You may also like