Behavioral Health: Integrating Individual and Family Interventions in the Treatment of Medical Conditions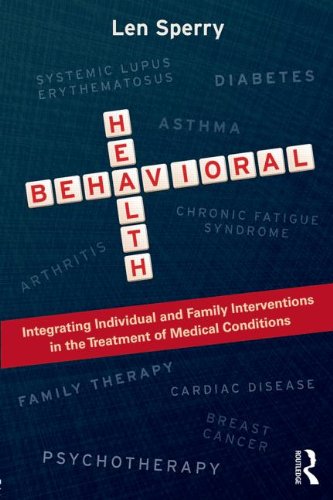 Also by Len Sperry

The emergence of behavioral health, how it is practiced, and how it will be practiced is at the heart of this book. Len Sperry, a prominent author and educator, is one of the first to describe and advocate for an approach to health care that can significantly increase the efficacy and efficiency of health care and reduce costs for patients with chronic medical conditions. He does so by addressing both core theoretical constructs and core practice competencies to help readers comfortably provide effective integrated psychosocial treatment to individuals and families.
His book is split into three parts. The first provides an overview of the key family and personality dynamics and how medical conditions impact individual and family members throughout the family life cycle. Important considerations in this part include ethical and clinical issues, spiritual considerations, treatment non-compliance, motivational interviewing, and case conceptualization. Of particular importance is Dr. Sperry's description of four illness stages, which reflect patients' psychosocial adjustment to their chronic illnesses. The second part consists of seven chapters dedicated to common medical conditions, followed by the last part that addresses integrated behavioral health competency and competency-based training.
Behavioral health clinicians and trainees in various behavioral health specialties, including individual psychotherapists and family therapists, will find this practical book of interest and value to their work. No matter their experience, all readers will walk away from this book with the knowledge necessary to increase motivation, deal with non-compliance issues, and tailor therapeutic change, while increasing treatment efficacy and efficiency with their patients.
About the Author(s)
Len Sperry, MD, PhD is a Professor of Mental Health Counseling at Florida Atlantic University in Boca Raton, Florida and Clinical Professor of Psychiatry and Behavioral Medicine at the Medical College of Wisconsin in Milwaukee. He has some 600 publications including 60 professional books. He is on the editoral board of the American Journal of Family Therapy, The Family Journal, and the Journal of Marital and Family Therapy.
You may also like