Baby Observation: Emotional Relationships during the First Year of Life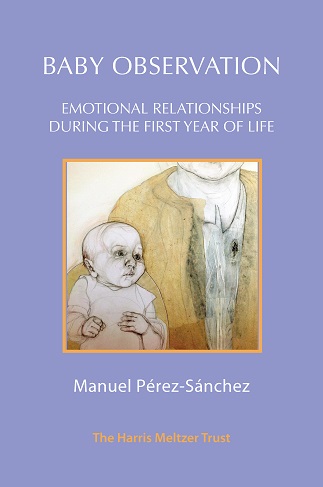 Book Details
Publisher : Harris Meltzer Trust
Published : October 2020
Cover : Paperback
Pages : 248
Category :
Child and Adolescent Studies
Catalogue No : 95358
ISBN 13 : 9781912567812
ISBN 10 : 1912567814
'Manuel Pérez-Sánchez has presented a very vivid description of a baby's first year of life. Direct observational material is lent understanding through the combination of his and Esther Bick's thoughts regarding the weekly infant observations. We read how the baby progresses from a state of unintegration in which the anxious baby requires the containing presence of the parents and uses primitive bodily methods of providing protection against anxiety in their absence. We then move to a more comfortable stage in which the baby has introjected the parents as providing a sense of internal security. We see how each step in the baby's development involves a reciprocal change in the parents' relationship to the baby.
Certainly through this book teachers and parents will be able to lend greater compassion and understanding to children's emotional need for the parents' attentive presence. Likewise, understanding the ideas presented in this book fosters greater appreciation of children's restless lack of concentration and their meaningful non-verbal communication through gestures and play activities.
I unreservedly recommend this book as essential reading for those undertaking infant observation as well as for those who need to or simply wish to have a deeper understanding of infant mental life.'
Jeanne Magagna, Tavistock Clinic trained child, family and adult psychotherapist; editor of The Silent Child: Communication without Words.
You may also like