Autistic Transformations: Bion's Theory and Autistic Phenomena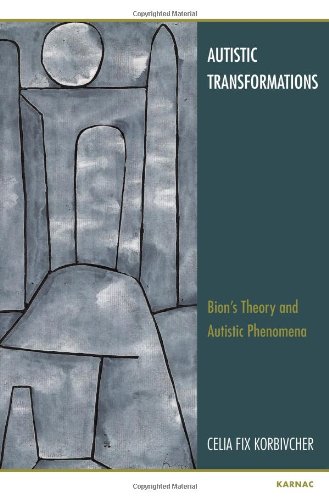 Book Details
Publisher : Routledge
Published : November 2013
Cover : Paperback
Pages : 160
Category :
Autism and Aspergers
Category 2 :
Psychoanalysis
Catalogue No : 33664
ISBN 13 : 9781780491752
ISBN 10 : 1780491751
This book is a collection of articles written between 1992 and 2005 which attempts to bring two universes together – Bion's referential and autistic phenomena. The field of clinical work which the author uses is that of "learning from the emotional experience" (Bion, 1962) and the theory of Transformations (Bion, 1965), a method of observing mental phenomena within this field, which also encompasses the areas of neurosis and psychosis. The author makes use of Tustin's concept (1965) which proposes that the personality has, apart from the neurotic and psychotic parts, an autistic part in which prevails sensations in place of emotions.
The author suggests adding an autistic area to the theory of Transformations, proposing a new type of transformation beyond those suggested by Bion: the autistic transformations. The merit of this proposal is to expand Bion's referential to the autistic area, an area dominated by sensations without representation in the mind. In the final chapters, the author examines the functioning of the analyst's mind when faced with autistic transformations in the analytic session and the implications of including this concept in Bion's referential.
Reviews and Endorsements
'This is a truly ground-breaking work. The author concentrates her study on psychological autism, summarizes the contributions on the subject by Frances Tustin, Donald Meltzer, Andre Green, and Melanie Klein, among others, and then integrates the results with Bion's clinical and theoretical works. What she has accomplished is a tour de force, a new theoretical outlook on psychological autism along with a new clinical rationale for treating it. She has reconceived the nature and placement of psychological autism in the developmental line. In brief, she has imaginatively yet credibly conceived of it as one of the latent options in Bion's categories of transformations, and even finds a place for it on Bion's grid, albeit with some alterations of the latter.

One of her main theses is that psychological autism may not be a pathological aberration but rather an inherent transformative potential in an infant who has failed to develop a mental apparatus able to contain and transform painful, stressful experiences and just discharge them instead. She argues that the infant who cannot tolerate his painful experiences may opt to recruit his "autistic-transformational potential" in order to withdraw from the stresses contingent upon the painful experiences of object separation, and supports her claim with many convincing clinical examples. What she has also accomplished with these examples is an exemplary display of her use of Bion's psychoanalytic technique as well as that of Klein. This factor nominates the author's book as an invaluable multi-purpose text book.'
- James Grotstein, Professor of Psychiatry and author of A Beam of Intense Darkness: Wilfred Bion's Legacy to Psychoanalysis

'Celia Fix Korbivcher's book is a tribute not only to Bion's theory of transformations, but also to Frances Tustin's transformative variations on Bionian themes. Of course, for Tustin, these themes were filtered through the looking-glass experience of her own analysis with Bion, as well as through her analytic encounters with autistic children. However, throughout the chapters in this book, we see evidence that Korbivcher has been able to follow Tustin's lead, "straight down the rabbit hole", after each one of her patients, while clearly demonstrating her own unique analytic lens and her capacity to articulate new models, rooted in the examples set by these two great thinkers. With this book, Korbivcher has surely earned her position in this lineage.
- Judith L. Mitrani, clinical psychologist and psychoanalyst; author of Encounters with Autistic States: A Memorial Tribute to Frances Tustin

About the Author(s)
Celia Fix Korbivcher is a Training and Supervising Analyst, Child Analyst, and a member of the Brazilian Psychoanalytic Society of São Paulo. For several years, Dr Korbivcher has been working in private practice analysing children, adolescents and adults. She has focused her attention on the study of autistic phenomena in neurotic patients and has written several articles on this subject. Her papers have been published both in Brazilian and International journals, including the IJPA. Dr Korbivcher has authored the original version of this book in Portuguese, Autistic Transformations: Bion´s Referential and Autistic Phenomena, which has been published by Imago Editora. She was awarded the Fabio Leite Lobo Prize in 2001 and 2008. In 2004, she received The First International Parthenope Thalamo Bion and in 2005, the 9th Frances Tustin Memorial Prize.
You may also like