Assessment in Child Psychotherapy

Book Details
Publisher : Routledge
Published : 2000
Cover : Paperback
Pages : 192
Category :
Child and Adolescent Studies
Catalogue No : 7499
ISBN 13 : 9781855753228
ISBN 10 : 1855753227
Also by Margaret Rustin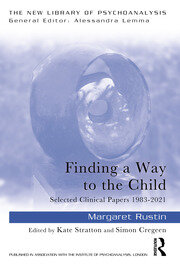 Also by Emanuela Quagliata
This book describes an approach to children and young people who might be helped by child psychotherapy. Attention is paid to factors within the child's personality, to strengths and impediments in the developmental process, and to the family and wider school and community context. Individual chapters address both clinical methods and a variety of clinical problems, including work with very young children and their parents, severe deprivation and family breakdown, developmental delay, and the more serious psychological illnesses of childhood.
Assessment in Child Psychotherapy is a significant contribution to all mental health professionals who need to be able to identify the precise nature of a child, adolescent or family's problems and to offer the most appropriate help. Such a book is long overdue. It spans a range of thinking about how best to reach those whose emotional and behavioural difficulties pose challenging questions as to the most suitable forms of treatment. Through vivid and detailed clinical examples the book shows how the assessment procedure itself can constitute a helpful piece of work, as well as an exploration, which leads to a variety of treatment possibilities. Expert knowledge is made accessible and an elusive process is brought alive.
This book will be of great help to child and adolescent mental health professionals and to a wider public interested in the development of children and in how help can be provided when things go wrong.
Contributors:
Anne Alvarez, Robin Anderson, Beta Copley, Jeanne Magagna, Lisa Miller, Emanuela Quagliata, Maria Rhode, Margaret Rustin, Judith Trowell and Margot Waddell.
About the Editor(s)
Margaret Rustin is a consultant child and adolescent psychotherapist at the Tavistock Clinic, London, and an Associate of the British Psychoanalytical Society. She has pioneered and supported the extension of training in psychoanalytic observational approaches to training across the United Kingdom and in a number of other countries.
More titles by Margaret Rustin
Emanuela Quagliata is a child psychotherapist and psychoanalyst and a member of the Italian Association for Psychoanaltyic Child Psychotherapy. She edited and contributed to Neonatici visti da vicino (1993), and edited the earlier Italian version of this volume, Un buon incontro (1994).
You may also like