Asian Art Therapists: Navigating Art, Diversity, and Culture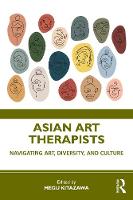 Book Details
Publisher : Routledge
Published : October 2020
Cover : Paperback
Pages : 158
Category :
Expressive Arts Therapies
Catalogue No : 95342
ISBN 13 : 9780367625481
ISBN 10 : 9780367625
This book explores Asian art therapist experiences in a predominantly white professional field, challenging readers with visceral, racial, and personalized stories that may push them far beyond their comfort zone.
Drawing from the expertise and practices of Asian art therapists from around the world, this unique text navigates how minority status can affect training and clinical practice in relation to clients, co-workers, and peers. It describes how Asian pioneers have broken therapeutic and racial rules to accommodate patient needs and improve clinical skills and illustrates how the reader can examine and disseminate their own biases. Authors share how they make their own path-by becoming aware of the connection between their lives and circumstances-and how they liberate themselves and those who seek their services.
This informative resource for art therapy students and professionals offers non-Asian readers a glimpse at personal and clinical experiences in the White-dominant profession while detailing how Asian art therapists can lead race-based discussions with empathy to become more competent therapists and educators in an increasingly diversifying world.
Reviews and Endorsements
"Art therapist Megu Kitazawa has written a book rich with information and insight which will be wonderful in the training and development of both future art therapists, as well as expanding the mostly Eurocentric literature available for current professionals in the field. Asian Art Therapists: Navigating Art, Diversity, and Culture is timely and sorely needed as we all learn to work effectively together in our interdependent world. This book is a true gift to our profession and a must-read for all." - Stephanie Wise, ATR-BC, ATCS, LCAT, director, Art Therapy Program, Marywood University, USA.

"Asian Art Therapists is a much-needed book for professionals and multicultural studies. Megu Kitazawa asks important questions about the training and profession of art therapy. Through her thoughtful, self-reflective chapter to a selection of narratives from Asian art therapists this is required reading for all." - Val Sereno, ATR-BC, LCAT, coordinator of Special Programs and Projects at the School of Visual Arts, USA.

"The first book of its kind, Asian Art Therapists: Navigating Art, Diversity, and Culture is a must-read for all therapists and students. Powerful, moving, and illuminating: the voices of the authors inspire meaningful reflection and call to action." - Raquel Chapin Stephenson, PhD, ATR-BC, LCAT, associate professor, Art Therapy Program Coordinator, Expressive Therapies Division, Lesley University, USA.

"Asian Art Therapists invites the reader to join the tremendous and touching journey of self discovery the therapists portrayed here have made, articulating for themselves and their surroundings their racial, ethnic, familial, personal and professional identities. Varied and multi voiced, these narratives tell a tale of loss and gain, of growing clarity and ease that come from learning who you are. Simultaneously, it is an important step in portraying the need and making space for further growth, diversity and inclusiveness in the field of psychotherapy." - Tamar Talmi, MA, Psychologist in private practice in Berlin, Germany.

"This book is such a gift. So grateful for each of these art therapist's and client's voices as they provide opportunities to reflect on the nuances of cross-cultural work, and how identity impacts our approach to therapy and education." - Shannon Bradley, ATR-BC, LCAT, psychotherapist, Pratt Instructor and Low Residency Co-coordinator.

"Asian Art Therapists is an important book that all therapists should read. It raises thought-provoking questions that make therapists from all cultures consider how they may be behaving insensitively to colleagues and clients alike." - Annmarie Grossman, MA, LPC, PACT Program Director in NJ, USA.
About the Editor(s)
Megu Kitazawa, MA, ATR-BC, LCAT, is a NY State Licensed Creative Arts Therapist and Board-Certified Art Therapist currently living in Berlin, Germany, and conducting individual art therapy consultations and workshops for the Japanese and English-speaking expats.
You may also like