Archetypal Nonviolence: Jung, King, and Culture Through the Eyes of Selma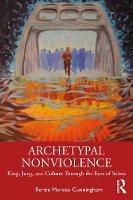 Book Details
Publisher : Routledge
Published : December 2020
Cover : Paperback
Pages : 142
Category :
Jung and Analytical Psychology
Catalogue No : 95400
ISBN 13 : 9780367112264
ISBN 10 : 9780367112
Renee Moreau Cunningham's unique study utilizes the psychology of C. G. Jung and the spiritual teachings of Mahatma Gandhi and Martin Luther King, Jr. to explore how nonviolence works psychologically as a form of spiritual warfare, confronting and transmuting aggression.
Archetypal Nonviolence uses King's iconic march from Selma to Montgomery, a demonstration which helped introduce America to nonviolent philosophy on a mass scale, as a metaphor for psychological and spiritual activism on an individual and collective level. Cunningham's work explores the core wound of racism in America on both a collective and a personal level, investigating how we hide from our own potential for evil and how the divide within ourselves can be bridged. The book demonstrates that the alchemical transmutation of aggression through a nonviolent ethos, as shown in the Selma marches, is important to understand as a beginning to something greater within the paradox of human violence and its bedfellow, nonviolence.
Archetypal Nonviolence explores how we can truly transform hatred by understanding how it operates within. It will be of great interest to Jungian analysts and analytical psychologists in practice and in training, and to academics and students of Jungian and post-Jungian studies, American history, race and racism, and nonviolent movements.
Reviews and Endorsements
"This book is a study of the history of the racial dilemma in the United States. It includes the Civil Rights Movement and its leaders, such as Martin Luther King. It amplifies the theory of non-violence by using some of the writings of Gandhi and King and others. This work is important in studying the healing of psychological splitting, and I highly recommend it for any reader who is curious about these topics and is willing to think symbolically and metaphorically about them." - Ben F. Toole, Jungian analyst, USA.

"In the face of the worldwide epidemic of violence, this book is historically timely. Renee Cunningham offers an important alternative to violence by demonstrating the value of the spiritual practice of nonviolence. The book's focus on the psychological underpinnings of nonviolence contributes to a greater understanding of exactly why nonviolence can be so effective." - Lionel Corbett, MD, Jungian analyst; Pacifica Graduate Institute, USA.

"From the consulting room to the political scene we search for a container to hold the tension of the opposites. Following the path of nonviolence so aptly described by this author gives us the opportunity to experience and grow from this tension." - Billye Bob Currie, Jungian analyst, USA.
About the Author(s)
Renée Moreau Cunningham is a Diplomate Jungian Analyst of the Inter-Regional Society of Jungian Analysts, Texas Chapter. She is a licensed Marriage & Family Therapist who has been in private practice for over twenty-five years.
You may also like