Answering a Question with a Question: Contemporary Psychoanalysis and Jewish Thought: Volume 2: A Tradition of Inquiry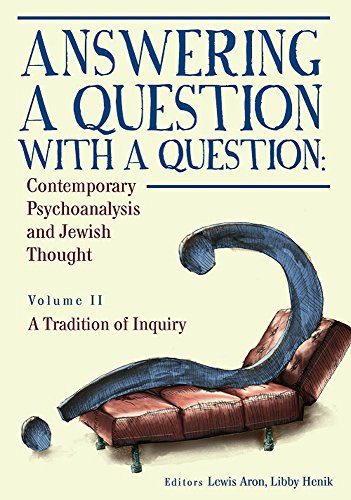 Book Details
Publisher : Academic Studies Press
Published : 2015
Cover : Hardback
Pages : 400
Category :
Culture and Psychoanalysis
Catalogue No : 37952
ISBN 13 : 9781618114471
ISBN 10 : 1618114476
Also by Lewis Aron

Also by Libby Henik
Inquiry, questioning, and wonder are defining features of both psychoanalysis and the Jewish tradition. The question invites inquiry, analysis, discussion, debate, multiple meanings, and interpretation that continues across the generations. If questions and inquiry are the mainstay of Jewish scholarship, then it should not be surprising that they would be central to the psychoanalytic method developed by Sigmund Freud.
The themes taken up in this book are universal: trauma, traumatic re-enactment, intergenerational transmission of trauma, love, loss, mourning, ritualuthese subjects are of particular relevance and concern within Jewish thought and the history of the Jewish people, and they raise questions of great relevance to psychoanalysis both theoretically and clinically. In Answering a Question with a Question: Contemporary Psychoanalysis and Jewish Thought (Vol. II). A Tradition of Inquiry editors, Aron and Henik, have brought together an international collection of contemporary scholars and clinicians to address the interface and mutual influence of Jewish thought and modern psychoanalysis, two traditions of inquiry.
About the Editor(s)
Lewis Aron, Ph.D. is director of the New York University Postdoctoral Program in Psychotherapy and Psychoanalysis. He has served as President of the Division of Psychoanalysis of the American Psychological Association; founding President of the International Association for Relational Psychoanalysis and Psychotherapy (IARPP); founding President of the Division of Psychologist-Psychoanalysts of the New York State Psychological Association (NYSPA). He holds a Diplomate in Psychoanalysis from the American Board of Professional Psychology and is a Fellow of both the American Psychological Association and of the Academy of Psychoanalysis. Dr. Aron is the author and editor of numerous scholarly articles and books including A Meeting of Minds. He was one of the founders, and is an Associate Editor of the journal, Psychoanalytic Dialogues and is the co-editor of the Relational Perspectives Book Series, Routledge.
Libby Henik, LCSW is in private practice in New York and New Jersey. She is a graduate of the Wurzweiler School of Social Work of the Yeshiva University and a graduate in Psychodynamic Psychotherapy of the American Institute for Psychoanalysis of the Karen Horney Psychoanalytic Center. She also holds a Master of Arts in Hebrew Literature from Hunter College. Ms. Henik studied biblical exegesis and Hebrew literature with Nechama Leibowitz at Bar-Ilan University and with Professor Milton Arfa at Hunter College. She has taught in Israel, the United States and the former Soviet Union.
You may also like