Analysing Patients with Traumas: Separation, Illness, Violence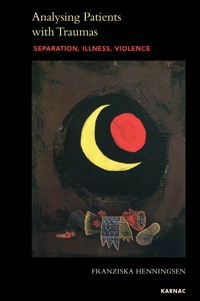 Book Details
Publisher : Karnac Books
Published : November 2017
Cover : Paperback
Pages : 336
Category :
Psychoanalysis
Category 2 :
Trauma and Violence
Catalogue No : 37312
ISBN 13 : 9781782203353
ISBN 10 : 1782203354
The focus of this book is on detailed case histories of patients with severe traumas. The author takes us through the successive stages of analysis and gives us a graphic impression of the progress of her diagnostic and therapeutic insights into traumatic processes and their treatment. Her main interest is in the development of the transference/countertransference relationship. Traumatic experience has to be actualised within that relationship if it is to be treated successfully, only in this way can therapeutic change become a feasible proposition. Traumatic micro-processes and trauma-sequel phenomena in transference and countertransference are described and conceptualized. The author demonstrates her point with examples taken from clinical practice: illnesses experienced as traumatic; separation traumas; childhood experiences of violence; adult experiences of violence: war, torture, and displacement that can engender PTSD. This book is a genuinely original contribution to psychoanalytic treatment of traumas.
Reviews and Endorsements
'This is a remarkable book. It represents an unparalleled broad and comprehensive description of and reflection on traumatised individuals and the treatment they need. The detailed presentation of clinical and process material brings the reader close to the complex inner and outer reality of severely traumatised patients in a way that gives deep insight into and opens new ways of understanding the horrible after-effects of human-made harm against other human beings. Franziska Henningsen demonstrates how past traumatising experiences are actualised in the transference and are thereby made accessible for psychoanalytic therapy.
Henningsen has given us one of the best guides until now for clinicians working with patients traumatised by adverse life-circumstances in different stages of life.'
- Professor Sverre Varvin, training analyst, Norwegian Psychoanalytical Society, and Oslo and Akershus University for Applied Sciences
About the Author(s)
Franziska Henningsen, PhD, was a member of the German Psychoanalytical Association (DPV) and a training and supervising analyst at the Karl-Abraham-Institute in Berlin. She published numerous articles on psychoanalytic theory and practice with adults and children, especially on psychosomatic diseases, psychic trauma, homosexuality, East-West-Dialogue, the assessment of traumatized refugees. She took many important positions in the German Psychoanalytic Association (DPV) and was the Secretary of the DPV 2000-2004. She was the Chair of the IPA Committee for Outreach and Interdisciplinary Dialogue in 2004-2006. She was a member of the Program Committee for the IPA Congress 2013 in Prague. She was engaged in the development of psychoanalysis in East-Germany and East-Europe. She chaired for a long time the DPV East-West Committee and was a Member of the IPA Moscow Sponsoring Committee. She died in February 2015.
You may also like