An Integrated Approach to Short-Term Dynamic Interpersonal Psychotherapy: A Clinician's Guide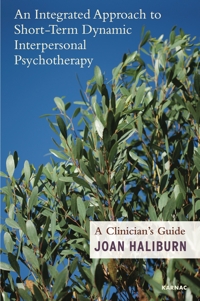 Also by Joan Haliburn
Short-term dynamic interpersonal psychotherapy is an integrated, trauma-informed, contemporary, dynamic way of working with a range of mental health difficulties. Flexible though structured, phase-oriented, focused and time-limited, it is informed by the Conversational Model, Attachment and Interpersonal Theories and Brief Psychodynamic Psychotherapies, which are briefly described. It provides clinicians with a way of working with patients whose difficulties do not warrant long term therapy, who prefer a talking therapy or who have failed cognitive/behaviour therapies. With the help of examples, it guides the process of assessment and therapy with trauma in mind: using Conversational Model techniques where empathy replaces confrontation; resistance is seen as a fear of re-traumatization; defence mechanisms are regarded as adaptive coping mechanisms which later become maladaptive; transference interventions replace interpretations, and self-reflective capacity is encouraged rather than just insight. Separation anxiety is addressed and anxiety-provoking techniques are avoided, given that anxiety is a large part of most presentations.
The book also covers the use of short-term dynamic interpersonal psychotherapy in issues of grief and bereavement; difficulties arising from life-changing medical diagnosis; relational and functional difficulties resulting from chronic major mental illness; and emergency psychiatry where patients present with disturbances which require prompt, empathic connection and assessment in order to maintain continuity of care.
Reviews and Endorsements
'This book provides a well-developed model of short-term psychodynamic therapy, which is both evidence based and sensitive to interpersonal and relational processes. It is particularly strong in aiding therapists to sense, refine, and then work on a therapeutic focus with their clients. This is one of the foremost skills necessary for effective therapy. Each phase of the therapy is explained in detail with rich case examples. The book is unique in attending to the need for evidence-based psychodynamically informed therapies. It provides a solid basis for teaching the STDIP model and then for determining and rating the therapist's adherence to the model. In doing so, it provides both deep clinical insights and opportunities for future research. It is an important and wise contribution to our field.'
- Philip J. Kinsler, PhD, clinical associate professor of psychiatry, Geisel School of Medicine at Dartmouth, and past president of the International
Society for the Study of Trauma and Dissociation

'A truly innovative work. An approach to short-term psychodynamic therapy that incorporates developmental and trauma theory, affect theory, memory and linguistics theory and evolving brain dynamics. It is integrated, structured, time limited, dynamic and interpersonal. Incorporating underlying theory, techniques, and process along with illustrative case examples, and concluding with specific situations such as adolescence and parent–child therapy, it leaves nothing out. Written in an accessible style, and illustrated throughout with detailed case studies, if you are a professional working in this area, then this is the book for you. It's a welcome addition to the library of anyone practising dynamic psychotherapy.'
- Janine Stevenson, clinical associate professor, Sydney University, and consultant psychiatrist and psychotherapist
About the Author(s)
Joan Haliburn is a consultant child, adolescent and family psychiatrist and Fellow of the Royal Australian and New Zealand College of Psychiatry. She works in private practice, and is a clinical senior lecturer at the University of Sydney, and faculty member at the Complex Trauma Unit, which is a service, training and teaching facility at Westmead Hospital. She is a psychotherapist trained in the Conversational Model with Emeritus Professor Russell Meares at Westmead Hospital, Sydney, Australia, an International Fellow of the American Psychiatry Association, a member of the International Society for the Study of Personality Disorders, and a member of the Board of Directors, International Society for the Study of Trauma and Dissociation (ISSTD).
You may also like