Affective Neuroscience in Psychotherapy: A Clinician's Guide for Working with Emotions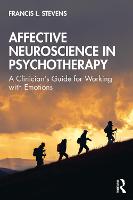 Book Details
Publisher : Routledge
Published : September 2021
Cover : Paperback
Pages : 175
Category :
Individual Psychotherapy
Category 2 :
Neuroscience
Catalogue No : 95804
ISBN 13 : 9780367714406
ISBN 10 : 9780367714
Most psychological disorders involve distressful emotions, yet emotions are often regarded as secondary in the etiology and treatment of psychopathology. This book offers an alternative model of psychotherapy, using the patient's emotions as the focal point of treatment. This unique text approaches emotions as the primary source of intervention, where emotions are appreciated, experienced, and learned from as opposed to being solely regulated.
Based on the latest developments in affective neuroscience, Dr. Stevens applies science-based interventions with a sequential approach for helping patients with psychological disorders. Chapters focus on how to use emotional awareness, emotional validation, self-compassion, and affect reconsolidation in therapeutic practice. Interventions for specific emotions such as anger, abandonment, jealousy, and desire are also addressed.
This book is essential reading for clinicians practicing psychotherapy, social workers and licensed mental health counselors.
Reviews and Endorsements
"The field of mental health has been starving for a more comprehensive, integrative explanation for positive treatment effects in psychotherapy. Dr. Francis L. Stevens's Affective Neuroscience in Psychotherapy: A Clinician's Guide for Working with Emotions explains what we have been missing all along." - Karin Maria Hodges, Psychologist, Private Practice, Concord, MA.

"Cognitive approaches to psychotherapy have come to dominate the field in recent decades in part because of their solid scientific foundation. They typically view emotional distress as a symptom to be reduced. Psychotherapy approaches that emphasize experiencing and processing emotional distress are effective but less well validated. This excellent book aims to restore the balance and does more to link recent advances in basic affective neuroscience and psychotherapy practice than any other. Recommended for beginning psychotherapists as well as any clinician who takes emotional processing in psychotherapy seriously and wants to know how and why it works." - Richard D. Lane, M.D., Ph.D. Professor of Psychiatry, Psychology and Neuroscience University of Arizona. Editor (with Lynn Nadel) of Neuroscience of Enduring Change: Implications for Psychotherapy.

"Dr. Stevens has done a fine job of compiling recent information on affective neuroscience and its application to therapy. His clinical examples help to illustrate key concepts. This book provides a helpful introduction to these topics." - Alexis D. Abernethy, Ph.D. Professor of Clinical Psychology, School of Psychology & Marriage and Family Therapy, Fuller Theological Seminary.
About the Author(s)
Dr. Francis L. Stevens works as a psychologist in Worcester, MA. He has taught a variety of classes in psychology and neuroscience. His research focuses on affective neuroscience applications to psychotherapy.
You may also like