Advanced Principles of Counseling and Psychotherapy: Learning, Integrating, and Consolidating the Nonlinear Thinking of Master Practitioners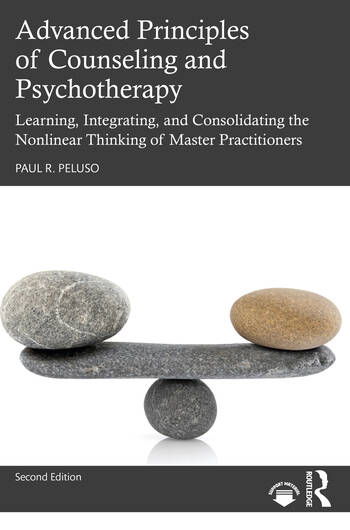 Book Details
Publisher : Routledge
Published : September 2022
Cover : Paperback
Pages : 244
Category :
Counselling
Category 2 :
Individual Psychotherapy
Catalogue No : 96791
ISBN 13 : 9780367538583
ISBN 10 : 036753858X
Also by Paul R. Peluso
The second edition of Advanced Principles of Counseling and Psychotherapy covers advanced helping- skills topics, including inductive reasoning, Socratic questioning, and creatively creating second- order change. Chapters explore strategies for using paradoxical interventions, including the use of humor, and working with double- binds.
Professors and students alike will find that Advanced Principles of Counseling and Psychotherapy: Second Edition., is not just a guide to training; it provides an in- depth understanding of material covered in introductory courses and supplements the material students will cover in practicum and internship.
Reviews and Endorsements
"This is the most amazing introduction to psychotherapy I have ever seen. It is clear and highly creative. It makes reading just delightful. It introduces the beginning therapist to the dilemmas of clients, and then it teaches therapists HOW TO THINK NONLINEARLY so that they can induce client change. It's a strategy for getting clients unstuck. Peluso aptly suggests, along with Archimedes, that with the right lever it is possible to move the world. But then, in a startling way, Peluso teaches the therapist where to put that mighty lever. What an incredibly useful book. Every therapist should read this book and master its contents. I know that I will." _ John M. Gottman, PhD, author of The Seven Principles for Making Marriage Work

"With the foundation of counseling and psychotherapy firmly in hand, Advanced Principles of Counseling and Psychotherapy provides thoughtful guidance and critique on what truly contributes to effective counseling, practice, and mastery. The author grounds the reader in nonlinear thinking and enables the clinician to examine evidence-based outcomes that lead to productive counseling and client change. This is an essential text for the counseling professional seeking advanced ideas and wisdom to practice." - Richard S. Balkin, professor and interim department chair of the Department of Leadership and Counselor Education at the University of Mississippi.
About the Author(s)
Paul R. Peluso, PhD, LMHC, LMFT is Senior Associate Dean in the College of Education and Professor in the Department of Counselor Education at Florida Atlantic University in Boca Raton, Florida.
You may also like