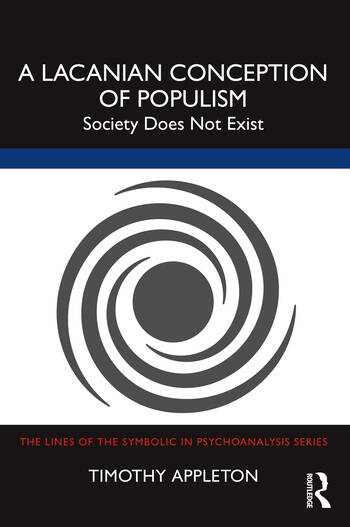 Book Details
Publisher : Routledge
Published : September 2023
Cover : Paperback
Pages : 112
Category :
Lacanian Psychoanalysis
Catalogue No : 97258
ISBN 13 : 9781032557182
ISBN 10 : 1032557184
A Lacanian Conception of Populism takes issue with traditional theories of populism, which seek to equate populism with hegemony, arguing that these are not only different but even incompatible logics.
Timothy Appleton contends that one of the main differences between populism and hegemony has to do with the social totality: while hegemony absolutises it, populism eviscerates it, setting in its place an (apparently paradoxical) dispersion of singular instances of 'the people'. The book considers the work of Laclau, Badiou, Žižek and Rancière, before arriving at a novel conceptualisation that Appleton dubs 'the populism of singularities'. In the second half of the book, the author draws out the consequences of this concept for contemporary political theory: the question of how to define 'left' and 'right'; the question of popular enthusiasm and affect; 'truth' versus 'post-truth'; the question of leadership; populism and nationalism; and the relation between populism and political parties.
A Lacanian Conception of Populism will be key reading for academics and scholars of political theory, political philosophy, post-Marxist thought, discourse theory and psychoanalysis. It will also be of interest to those working in the areas of populism studies, cultural studies, gender studies and queer theory.
Reviews and Endorsements
Appleton's book is much more than just a psychoanalytic interpretation of populism – it is a politically-engaged reading which intervenes in its subject and opens up new ways of emancipatory struggle. To paraphrase the best-known line of Marx: philosophers have hitherto only interpreted populism in various ways; the point of Appleton's book is to change populist practice itself.
Slavoj Žižek, International Director, Birkbeck Institute for the Humanities

Staging an informed, challenging and timely choreography between different strands of contemporary critical political theory (drawing on Rancière, Badiou, Zizek and others), Appleton manages to show populism in a new light. By enlisting psychoanalysis to envisage politics anew, he articulates an original contribution to the Laclau and Mouffe-inspired orientation.
Yannis Stavrakakis, Professor of Political Discourse Analysis, Aristotle University of Thessaloniki, and author of The Lacanian Left

A well thought-out and provocative book on populism which is a must for contemporary debates on the subject.
Marina Prentoulis, Senior Lecturer in Media and Politics, University of East Anglia, and author of Left Populism in Europe

Appleton is an original thinker who makes a significant contribution to the field of post-Laclaudian theory, inspirational for the understanding of deepening affective hegemonic struggles and populist politics.
Emilia Palonen, Lecturer in Politics, University of Helsinki

A Lacanian Conception of Populism is a book that intervenes in a lucid and original way in today's politico-theoretical scene. It demonstrates the ideological (liberal) bias of those who disdain populist theory, points out the limits of discourses centered on the figure of the proletariat and makes the people of the populist movements the axis of its philosophical reflections. Appleton achieves this aim via a novel and ruptural break with the theory of populism itself: he distances himself from Laclau and Mouffe, abandons the concept of hegemony and, in its place, opts for a populism of singularities qua political imagining that is open to the future.
Luciana Cadahia, Lecturer in the Pontifical Catholic University of Chile, co-author of Seven Essays on Populism

The political theory of populism is a somewhat impenetrable jungle. Tim Appleton orientates us and guides us through this terrain, discovering new places for us. The book contains original and interesting ideas about the ideology of populism, the relationship between populism and leadership and between populism and nationalism, and also offers a new vision of the role of antagonism in politics. This work will be an unmissable reference in the debates on populism.
Ignacio Sánchez-Cuenca, Profesor of Political Science, Carlos III University, Madrid, author of The Left: End of (a) Cycle (Catarata)
Table of Contents

Part 1
1. Populism versus hegemony

Part 2
2. Is populism left-wing or right-wing?
3. What is the connection between populism and affect?
4. Is populism post-truth?
5. What makes a populist leader?
6. Is there a connection between populism and nationalism?
7. How should populists relate to political parties?
8. Conclusion: Future politics

Appendices: A few short essays on political matters
9. What is 'the populism of singularities'?
10. Was will das Volk?
11. Beyond the empty signifier: lalangue and Black Lives Matter
12. Brexit and the tautology of being
About the Author(s)
Timothy Appleton studied Discourse Analysis with Ernesto Laclau at the University of Essex, before doing a PhD in Philosophy at the Complutense University of Madrid. He is currently a linguistics lecturer at the Camilo José Cela University, Madrid, Spain.
You may also like