A Dangerous Legacy: Judaism and the Psychoanalytic Movement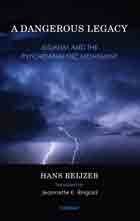 Book Details
Publisher : Karnac Books
Published : 2011
Cover : Paperback
Pages : 236
Category :
Psychoanalysis
Catalogue No : 29339
ISBN 13 : 9781855758582
ISBN 10 : 185575858X
On 23rd July 1908 Sigmund Freud wrote to his colleague Karl Abraham: "Rest assured that if my name were Oberhuber [an obviously non-Jewish name], in spite of everything my innovations would have met with far less resistance."
From its beginning, psychoanalysis has been seen as a Jewish affair, and psychoanalysts have always been afraid of ending up in the position of the Jew - that of the outsider. In A Dangerous Legacy: Judaism and Psychoanalysis Hans Reijzer examines how psychoanalysts have managed that fear, in the recent past and in the present. During his research, which led him to Vienna, Paris, Amsterdam, London, Jerusalem, Hamburg, and Durban, Reijzer encountered malicious as well as enlightening statements, situations, and incidents. A Dangerous Legacy is a striking study of an interesting area of research. Reijzer's conclusion is surprising: stereotypes about Jews are a factor not only in the everyday world but also in the psychoanalytic world as soon as Jews take part in it.
Reviews and Endorsements
'Reijzer [has written] a powerful and courageous social psychological work.'
- Michael Thys, psychoanalyst, in the Journal of Psychoanalysis

'I heartily recommend Reijzer's book, though it is partly painful and confrontational. It is certainly not an easy charter, but on the other hand, well written.'
- Hendrika Freud, psychoanalyst and author, in The Jewish News Weekly

'The Dutch Psychoanalytic Society and the Dutch Psychoanalytic Group were established after a disagreement about The Jewish question. Hans Reijzer, the analyst, has written an exciting book that very appropriately is called A Dangerous Legacy.'
- Marcel Möring in NRC Handelsblad, author and winner of the AKO Literature Prize
About the Author(s)
Hans Reijzer is a psychoanalyst in Amsterdam. From 1995 to 2003, he was general editor of the Tijdschrift voor Psychoanalyse, established by seven Dutch and Flemish psychoanalytic organizations. From 2003 to 2008, he was chairman of the joint Scientific Committee of three Dutch psychoanalytic organizations.
You may also like