101 Mindful Arts-Based Activities to Get Children and Adolescents Talking: Working with Severe Trauma, Abuse and Neglect Using Found and Everyday Objects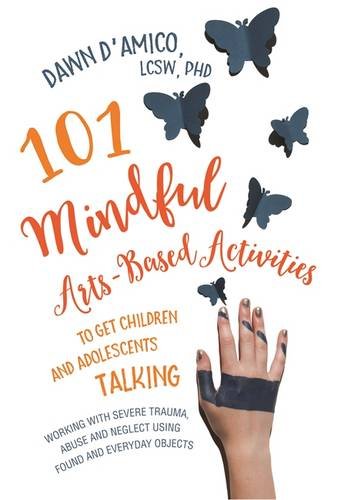 Our Customers Average Rating
Read all reviews (4)





Many children who have experienced serious trauma are withdrawn and closed off, making it difficult to engage with them in therapy effectively. This book offers a compendium of therapeutic activities that will help children who have endured painful abuse to open up, so that they can learn to express their feelings and therapy can be directed towards their individual needs. From useful techniques for bridging memory gaps to using masks for self-expression, the innovative activities use mindfulness, art and play to help children feel relaxed and responsive. The activities require very little preparation, and use only everyday items that are easy to access and can be used time and time again. Case studies throughout offer a helpful demonstration of how the activities work in practice. This is an ideal resource for use with children in therapeutic, home and school settings. It is appropriate to use with children aged 5-17 who have experienced trauma, physical abuse, sexual abuse, forced migration and severe neglect, as well as those with acute depression, anxiety and behavioural difficulties.
About the Author(s)
Dawn D'Amico LCSW PhD is a psychotherapist who has 22 years of experience working with children affected by various types of trauma in different settings including private practice, hospitals, children's homes and refugee camps. She has worked internationally in Asia and Africa and has served as a graduate faculty member at the University of Wisconsin. She lives in Wisconsin, USA.
Customer Reviews
Our customers have given this title an average rating of 5 out of 5 from 4 review(s), add your own review for this title.
C.P. on 25/04/2019 04:25:22





(5 out of 5)
As an attorney I have worked with Dr. D'Amico on very difficult cases involving children and trauma. I have observed Dr. D'Amico in the therapeutic setting with children and their families. She is very gifted and skilled in her work. 101 Mindful Art Based Activities allows Dr. D'Amico to share her remarkable work with others through heart felt stories and correlating activities.
Michael Kivlin on 09/04/2019 22:01:33





(5 out of 5)
This book was a easy read and had many simple ways to help children

Loved it
Zoe Lindstrom on 08/04/2019 23:45:40





(5 out of 5)
Dr. D'Amico has written an insightful, intelligent and creative guide to the special art of the healing process in children. She clearly has both a passion and a gift for this work and brings it to the reader in a practical and meaningful way.
Zoe Lindstrom LCSW
Sharon Y. on 08/04/2019 23:04:46





(5 out of 5)
This book was outstanding! I work with children and adolescents on a daily basis Who have been directly impacted by trauma and this book allows for practical work with this population. I believe DAmico as demonstrated through her case studies has been through the wars with us and is truly in her words one of our comrades!
Thank you!
You may also like