101 Defenses: How the Mind Shields Itself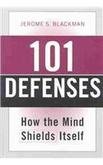 Book Details
Publisher : Routledge
Published : January 2004
Cover : Paperback
Pages : 232
Category :
Psychoanalysis
Catalogue No : 18977
ISBN 13 : 9780415946957
ISBN 10 : 0415946956
Also by Jerome S. Blackman
In this volume, Jerome S. Blackman catalogues 101 defences with descriptions practical for use in the everyday assessment and treatment of psychopathology. He explains how to detect and interpret a defence and offers supportive therapy techniques.
Reviews and Endorsements
'This book offers lucid and convincing descriptions of teh various defensive maneuvers that we employ to avoid experiencing teh anguish of internal conflict. Blackman's manner of writing is jargon-free, eser-friendly, and engaging.' - Salman Akhtar, M.D., Professor of Psychiatry, Jefferson Medical College; Training and Supervising Analyst, Psychoanalytic Center of Philadelphia.

Defenses are mental operations that restore or maintain psychic equilibrium when people feel that they cannot manage emotions that stem from conflict; they remove components of unpleasant emotions from conscious awareness. For example, using sex, food, or hostility to relieve tension that's a defense - catalogued here as entry number 68: Impulsivity. Screaming at someone can be a defense. Playing golf can be a defense. So can saving money. Or at least all of these activities may involve defenses. In this book, Blackman catalogues 101 defenses ­ the most ever compiled ­ with descriptions detailed enough for use by therapists in the assessment and treatment of psychopathology and practical enough for anyone interested in understanding how psychological defenses operate in everyday life.

Contents:
Introduction. General Concepts about Defenses. Defenses that Arise in the Oral, Anal and Phirst Genital Phases of Psychosexual Development. Latency, Adolescent, and Assorted Defenses. Defenses Used in the Diagnosis of Psychopathology. Interpretative Techniques. Differential Diagnosis and Treatment Selection. Supportive Therapy Techniques. Defenses in the Assessment of Suicidal Propensities. Appendix 1: Schizophrenia: History of Development of Diagnostic Criteria. Appendix 2: Ego Strengths Assessed in Diagnosis. Appendix 3: Chart: Psychoanalytic Diagnostic Considerations. Appendix 4: A Bit of History of Object Relations Theory. Appendix 5: Bizet's Carmen On the Couch.

Full Contributors:
Jerome S. Blackman, MD, PC, is Professor of Clinical Psychiatry and Behavioral Science at Eastern Virginia Medical School and a training civilian supervisor and consultant to the faculty at the Naval Medical Center Department of Psychiatry in Portsmouth, Virginia.


You may also like