Family Psychodynamics in Organizational Contexts: The Hidden Forces that Shape the Workplace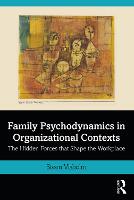 Customer Reviews
Our customers have given this title an average rating of 5 out of 5 from 1 review(s), add your own review for this title.
John Creet on 22/06/2021 18:16:07





(5 out of 5)
Very true, in my workings as a family therapist, inevitably love and work intertwine each other like the Gemini twins. It seems everything is a extension or offshoot of the archetypal family system.