Life after a Partner's Suicide Attempt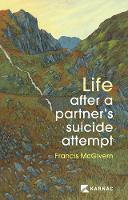 Customer Reviews
Our customers have given this title an average rating of 5 out of 5 from 2 review(s), add your own review for this title.
Jane on 13/12/2022 08:00:54





(5 out of 5)
As the partner of someone who has made multiple attempts on their life, I have struggled to find context for my conflicting feelings. I have felt overwhelmingly alone, because people who haven't experienced suicide don't know what to say, or how to help. Reading the accounts of partners like me has helped enormously, it has validated my feelings, and crucially, it has been a catalyst for change in my own recovery. Written with empathy and warmth, it is both relatable and accessible.
R.S on 21/01/2022 22:07:14





(5 out of 5)
Eye-opening and inspiring. It sheds a light on what ACTUALLY going on for you after your partner's suicide attempt. An aspect of life that people don't talk about, this book motivates us to address the extraordinary hidden struggle partner's face. Highly recommended.