False Bodies, True Selves: Moving Beyond Appearance-Focused Identity Struggles and Returning to the True Self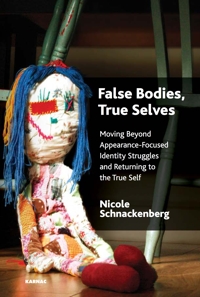 Customer Reviews
Our customers have given this title an average rating of 5 out of 5 from 2 review(s), add your own review for this title.
Dathen Boccabella on 20/10/2016 05:46:01





(5 out of 5)
'False Bodies, True Selves' is boldly unafraid to question the assumptions and shortcomings made by traditional approaches to treating appearance-based struggles. Schnackenberg instead shows the multifaceted sets of circumstances that can lead individuals down the dark path to struggling against their bodies, while weaving her own emotional story with the relevant academic findings for a powerfully balanced perspective.

All too often contemporary treatment of low body-image focuses solely on outward improvements; that is, one's ability to function in daily life and society, regardless of the turmoil they feel. Where Schnackenberg shines is in offering a path to find real inner satisfaction through living connected to our True Selves.

It's incredibly readable; an essential resource for sufferers, their families and friends, researchers and therapists alike. The lessons here are widely applicable to all aspects of life beyond body-image. 'False Bodies, True Selves' is bound to make a more compassionate person out of us all.
Patricia L. Gerbarg, MD on 26/06/2016 15:43:37





(5 out of 5)
"False Bodies True Selves", an intelligent, sensitive, poignant exploration of cultural and neuropsychological forces that shape our experience of our bodies, delves deeply into gender identity issues, body-related disorders such as anorexia, and social phenomena such as tattooing and skin lightening with toxic products. This interweaving of philosophy, psychology, art and science, informed by the writer's recovery from an eating disorder, serves as a guide as we wend our way towards our true selves. Beautifully written, informative, most highly recommended.

Patricia L. Gerbarg, MD
Assistant Clinical Professor in Psychiatry
New York Medical College
Co-Author of The Healing Power of the Breath, How to Use Herbs, Nutrients and Yoga in Mental Health Care, and Non-Drug Treatments for ADHD. www.Breath-Body-Mind.com