Ferenczi and His World: Rekindling the Spirit of the Budapest School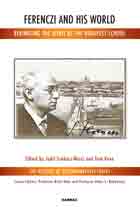 Book Details
Publisher : Routledge
Published : 2012
Cover : Paperback
Pages : 208
Category :
Psychoanalysis
Catalogue No : 31972
ISBN 13 : 9781780490205
ISBN 10 : 1780490208
Customer Reviews
Our customers have given this title an average rating of 5 out of 5 from 2 review(s), add your own review for this title.
Elaine Iannuzziello on 31/12/2012 18:08:47





(5 out of 5)
Judit Szekacs-Weisz and Tom Keve are to be commended for introducing the reading public to a pioneer of psychoanalysis who up to now has not been given the recognition that he deserves. In this volume and the subsequent publication, Ferenczi for our Time: Theory and Practice, Szekacs-Weisz and Keves have made a very important contribution not only to the History of Psychoanalysis series but to the world of psychoanalytical literature.

Ferenczi and His World: Rekindling the Spirit of the Budapest School introduces us not only to the engaging personality and passionate teachings of Sandor Ferenczi, but also to the rich cultural environment in early twentieth century Hungary that gave rise to his ideas. This volume is insightful, entertaining, eminently readable and highly recommended.
Alan Eppel on 08/04/2012 20:21:56





(5 out of 5)
I had always believed that Sandor Ferenczi was quite a peripheral figure in regards to the contemporary practice of psychotherapy. His split with Freud seemed to belong to the remote history and temperamental clashes of the early psychoanalytic movement. That was before I read this intriguing book.

Hungary in the early decades of the 20th century is revealed to be a place of great intellectual sophistication and originality. Novelists, physicists, mathematicians and other analysts were part of Ferenczi's circle.
It is intriguing to learn for example, that John von Neumann was part of the extended Ferenczi family. Von Neumann invented Game Theory and his work remains fundamental to the operation of computers.

The work of Ferenczi may be better known in the U.K. because of the remarkable impact of his student Michael Balint. In North America Ferenczi has resurfaced because of the move in contemporary psychoanalysis from an intrapsychic to a relational model of practice. Ferenczi was a forerunner in this. Firstly by his recognition that childhood sexual abuse did really occur and that therefore the external environment is critical to the development of psychopathology. This foreshadowed the modern emphasis on the real mother-infant relationship and attachment theory.

Ferenczi introduced a more active two-person therapeutic stance that recognized the importance of empathy and the impact of the analyst. This line of theoretical and clinical development continued through Winnicott and Bowlby to the present attachment-based experiential dynamic psychotherapies.

This book is a quick and easy read that provides a captivating story of surprising contemporary relevance.