Herbert Rosenfeld: A Contemporary Introduction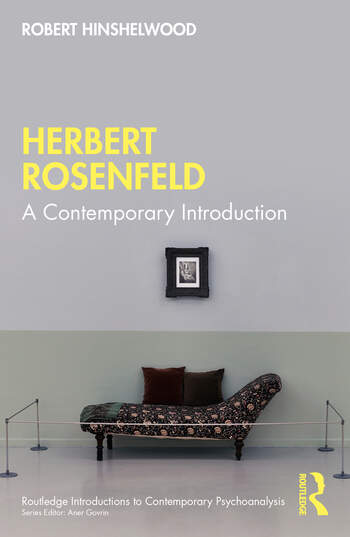 Book Details
Publisher : Routledge
Published : 2023
Cover : Paperback
Pages : 148
Category :
Psychoanalysis
Catalogue No : 97063
ISBN 13 : 9781032380384
ISBN 10 : 9781032380
Reviews and Endorsements
'This is an impressive and fascinating introduction to Herbert Rosenfeld's contribution to psychoanalysis, covering all the salient aspects of his thought. His profound capacity for identification with psychotic suffering, observation, and interpretation, along with his ability to encapsulate inner experiences into words, made him a major psychoanalytical figure and allowed us access to a series of insights on the deepest levels of human suffering. Hinshelwood's thoughtful understanding and great accuracy and clarity of writing make Rosenfeld accessible to a wide range of readers. This book not only shows how substantial Rosenfeld's contribution to psychoanalytic thinking and clinical practice was, but also how useful his clinical approach still can be for exploring and understanding psychotic conditions. In my view, this book is the best overview of Rosenfeld's thinking available and I heartily recommend it to any experienced psychotherapist and psychoanalyst, as well as to any advanced student in the field.' - Alberto Stefana, PhD, University of Pavia.

'Bob Hinshelwood's new book is a compelling introduction into the life and work of Herbert Rosenfeld, one of the most original and creative analytic thinkers in the Kleinian tradition. The author accompanies the reader on Rosenfeld's audacious journey to the most primitive and deepest layers of the human mind, his exploration of psychosis, narcissism and Borderline states, the discovery of projective identification and splitting mechanisms as well as his examination of pathological organizations of the personality. Like the author's previous books it is written with passion and didactic clarity including concise clinical vignettes to illustrate the theoretical issues. The book provides also important information about Rosenfeld's life, his debates with contemporary analysts and his understanding of countertransference entanglements. I think, it is a 'must' for everyone who is interested in the development of psychoanalytic theory and technique.' - Prof. Heinz Weiss, head of the Department of Psychosomatic Medicine, Robert-Bosch-Clinic, Stuttgart; Member of the Directory Board of the Sigmund-Freud-Institute, Frankfurt am Main; Chair of the Education Section of the International Journal of Psychoanalysis.

'Herbert Rosenfeld was an acknowledged master craftsman of psychoanalysis and the clinical encounter. His understanding of psychotic processes and primitive narcissism continue to offer us a powerful and provocative set of challenges and ideas derived from his extensive clinical experience. Analysts of all schools and levels of experience will be indebted to Robert Hinshelwood for this deeply felt and closely examined explication of Rosenfeld's seminal contributions.' - Howard B. Levine, Editor-in-Chief of the Routledge Wilfred R. Bion Studies Book Series.