Navigating Media's Influence Through Childhood and Adolescence: A Question and Answer Guide for Professionals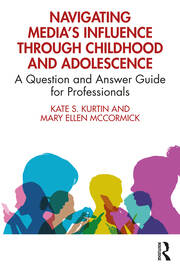 Reviews and Endorsements
"Navigating Media's Influence Through Childhood and Adolescence is impressive in its approach and scope and brings together theory, research, and wisdom from medicine, childhood development, media, and media effects. Professionals working with children and youth will find the book's unique blend of scientific insight and clinical savvy invaluable as they grapple with the many issues surrounding youths media use." - Kaveri Subrahmanyam, PhD, professor of psychology and associate dean, College of Natural and Social Sciences, California State University Los Angeles.

"Parents ask pediatricians (and others that care for children, adolescents, and young adults) about growth, development, problem behaviors, school, and sometimes just to know if something is normal. The need to ask these questions has intensified with increased use of social media, increased isolation, increased anxiety, depression, and stress. The authors, a communication scholar and a pediatrician, use research and experience to answer questions about media and its impact on children and adolescents. This is a well-written, well-resourced guide to common concerns about the role of medial in our children's lives. It is a great resource for social workers, pediatricians, teachers, and parents." - Martin M. Anderson, MD, MPH, FAAP, FSAM, professor of clinical pediatrics and adolescent medicine, Mattel Children's Hospital.

"This is the book pediatricians and mental health professionals have been waiting for. Kurtin and McCormick translate research findings on the effects of media upon children into practical advice for guiding professionals who are navigating this new frontier." - Gail Shak, PhD, Department of Psychiatry affiliate, Mills Peninsula Medical Center.

"This book offers researched answers to timely questions about how to work with children of the COVID era who have been exposed to 'screen time' as a means of entertainment, communication, education, and, for many families, as a means of survival. It has pertinent information for me as both a speech-language pathologist and a parent of young children." - Deanna Gilman, MS, CCC-SLP.