Physical Touch in Psychoanalytic Psychotherapy: Transforming Trauma through Embodied Practice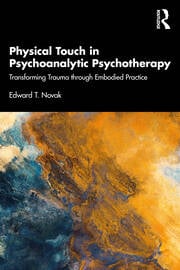 Book Details
Publisher : Routledge
Published : 2022
Cover : Paperback
Pages : 142
Category :
Individual Psychotherapy
Catalogue No : 96680
ISBN 13 : 9781032105284
ISBN 10 : 9781032105
Reviews and Endorsements
'Ed Novak is one of the most exciting contributors to the field of transactional analysis in the world today. This latest offering – an integration of embodied therapy with psychoanalysis and transactional analysis is a wonderful, courageous, provocative invitation to extend the methodology of talking therapy into work that directly engages with embodied trauma. Novak describes the life-limiting embodied effects of trauma and introduces five categories of therapeutic touch, designed to help clients reclaim their 'stolen body'. The book is written with enormous care and thought, including accounting for every type of professional or personal resistance to the idea of touch in therapy, and the style of writing mirrors the evident care, thought and generosity for clients that shine through in the many rich case studies.' - Professor Charlotte Sills, Integrative Psychotherapist; Teaching and Supervising Transactional Analyst .

'Ever since the mid-1950's, when psychoanalysts began to discuss the "widening scope of psychoanalysis," the field has been beset by the challenges of doing deep and effective treatment with those whose core issues come out of unrepresented and unformulated experience, generally traumatic, with its dissociated or split-off content, often unavailable to memory, but inscribed into the body. Novak offers here a fresh and fearless contribution to the field with his clear, disciplined, and clinically focused approach to psychoanalytic work with the body-mind in which touch can be an essential component.' - David V. Orbison, Ph.D., Clinical Psychoanalyst in Pittsburgh; Founding Member, KOWA.

'Massage therapists interact with the powerful undeniable subject of transference and countertransference connections with our clients. Given trauma informed care is the new standard, we are instinctively aware of these connections, but have little information available on how to address them when they surface during a massage. In his book Novak shares his wisdom gathered over decades to expand our curiosity and give vital insight to a subject often viewed in a repressive, dismissive way in massage therapy education. Novak's work opens a new horizon to engage the link between trauma and touch in massage therapy.' - Dorothy Adams LMT, Akron, Ohio.

'I became aware of the healing power of touch for severely traumatized and dying patients during the AID's crisis in New York. I learned that a hand resting on a shoulder or held for a few moments in parting or wrapping a young man in a blanket who is shivering with illness comforts but also evokes memories and feelings that are essential to good therapeutic work. Novak offers us, finally, a safe, systematic and developmentally grounded theory that integrates physical touch with psychoanalytic therapy. Rich with clinical process, the book is must reading for anyone in the mental health fields and everyone interested in how bodies that have been "stolen" can actually be recovered.' - Sandra Kiersky, Ph.D., Faculty and supervisor, Institute for the Psychoanalytic Study of Subjectivity, New York.