Using Trauma-Focused Therapy Stories: Interventions for Therapists, Children, and Their Caregivers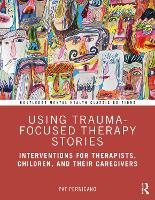 Reviews and Endorsements
"Pat Pernicano is a skilled storyteller, a skilled trauma practitioner, a skilled child therapist, and a skilled communicator of how to work helpfully and effectively with those who need it most. If you are engaged in these areas-and also want to be a skilled practitioner-you need this book in your hands and the applications in your work, now." - George W. Burns, author of 101 Healing Stories and Happiness, Healing, Enhancement.

"The psychoeducational material and therapy stories in this workbook are helpful adjunctive treatment resources for those working with trauma-exposed children, adolescents, and their caregivers. The information about trauma, PTSD, and coping strategies, presented in a simple, easy-to-understand format, normalizes what children experience and validates their thoughts and feelings. The stories present useful metaphors that kids and their caregivers will relate to, and they help therapists individualize trauma narrative work, safety planning, and other parts of trauma treatment. Many therapists will find this a valuable addition to their therapeutic tool bag." - Anthony P. Mannarino, PhD, professor and vice chair of the department of psychiatry at Allegheny General Hospital and Drexel University College of Medicine.

"Using Trauma-Focused Therapy Stories is a unique and comprehensive treatment resource to be used together with available treatment approaches for working with abused and neglected children. The author takes us on a wonderful journey through detailed case examples and stories that illustrate how to develop and use stories as part of the process of treating not only children and adolescents, but also adults. The child and caregiver's guides offer useful workbook-type activities and helpful psychoeducational material that move treatment along. This is definitely a one-of-a-kind book and a must have for trauma treatment." - Athena A. Drewes, PsyD, director of clinical training and doctoral internship at Astor Services for Children and Families.

"This is an awesome book! I love the way Dr. Pernicano uses story and narrative to help abused children and their families reintegrate and reconnect with themselves and other families. Lots of clinical insight and important nuggets of information. A must read for people working with this population." - J. Douglas Bremner, MD, author of Does Stress Damage the Brain? and You Can't Just Snap Out of It.