Lacan, Mortality, Life and Language: Clinical and Cultural Explorations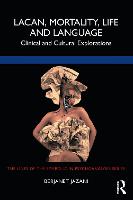 Book Details
Publisher : Routledge
Published : 2021
Cover : Paperback
Pages : 110
Category :
Lacanian Psychoanalysis
Catalogue No : 95892
ISBN 13 : 9781032027142
ISBN 10 : 9781032027
Reviews and Endorsements
"With her 'EastWorld' of an Iranian childhood ever present, Jazani's personal and poetic exploration of what makes us human - mortality, suffering, bodies, feelings - by way of myth and fairy stories, film and poetry situates Lacanian theory firmly in the clinic, with her rich accounts of her psychoanalytic practice." -Dr Anne Worthington, The College of Psychoanalysts, UK; Chair of the Centre for Freudian Analysis and Research.

"In her own unique style, weaving together Lacanian theory, clinical vignette and autobiography, Jazani explores the questions of subjective structure, the body and the symptom. This takes her to less familiar territory in Lacanian psychoanalysis: the formative effects of fairy tales and the function and phenomenology of feelings, which she approaches through their role in Persian culture. The book has a momentum and sweep that takes the reader on a stimulating, illuminating and often unexpected journey, opening up new lines of thought and encouraging us to question old ones. Unlike so many Lacanian texts today, Jazani manages to bring theoretical expositions back to clinical situations and examples that readers will find both helpful and clarifying. The use of autobiographical elements gives the book a charming and surprising candour, and despite the recurring themes of mortality and pain, this is a book that is intensely alive.
Lacan, Mortality, Life and Language is unlike other books in the field in the breadth of its themes and the very individual knotting together of theory, example and autobiography. It will appeal to anyone interested in Lacanian psychoanalysis and psychoanalysis more generally, as well as to students of related fields such as literature, social studies, anthropology and the arts." - Darian Leader, psychoanalyst, author and founding member of the Centre for Freudian Analysis and Research.