New Techniques of Grief Therapy: Bereavement and Beyond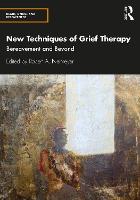 Book Details
Publisher : Routledge
Published : 2021
Cover : Paperback
Pages : 342
Category :
Grief and Bereavement
Catalogue No : 95873
ISBN 13 : 9780815352037
ISBN 10 : 9780815352
Reviews and Endorsements
"Clinicians want-and need-more than theory to guide them in their work with the bereaved. They also seek effective, how-to information to assist those contending with grief of all kinds, whether prompted by death or non-death loss. Nowhere else in the literature can professionals find such a wealth of interventions that help the mourner identify, express, and transform their responses to loss, reaffirm meaning, revamp life narratives, and develop healthy continued connection to lost loved ones. This book is a must have; it's a veritable gold mine for all who treat the bereaved, from the newest students to the most seasoned therapists." - Therese A. Rando, PhD, BCETS, BCBT, author of Treatment of Complicated Mourning and co-author of Treating Traumatic Bereavement: A Practitioner's Guide.

"Robert Neimeyer brings us a third outstanding collection in his excellent series on grief counseling and therapy. It features fifty-nine accessible chapters by authors from around the world; addresses diverse challenges in learning how to live meaningfully not only with bereavement but also with non-death-related losses; and concentrates on concrete techniques (illustrated by real-life examples) for supporting others in meeting those challenges. It is filled with innovative methods for practitioners, understanding for advanced students; and wisdom for both." - Thomas Attig, PhD, author of How We Grieve: Relearning the World.

"At last! A text that deals with death-related grief as well as that resulting from non-death loss. It offers a broad range of methods for helping persons negotiating both normative and traumatic life transitions. Along with dozens of creative contributors, Bob Neimeyer brings together in this volume his vast clinical experience, artistic talent and novel educational methods to enrich the field and the lives of those it serves." - J. Shep Jeffreys, EdD, FT, Department of Psychiatry and Behavioral Science, Johns Hopkins School of Medicine and author, Helping Grieving People: When Tears Are Not Enough.

This volume continues Robert Neimeyer's quest to bring creative insights and interventions to clinicians working with loss and bereavement. The international cast of contributors provides a rich trove of practical tools together with case reports to anchor the learning experience. Whether you are a newcomer to the field or a highly experienced practitioner, this book will broaden and deepen your perspective. My recommendation-Go for it! - Simon Shimshon Rubin, PhD, director of the International Laboratory for the Study of Loss, Bereavement, and Human Resilience, and author of Working with Loss and Bereavement.

"This highly anticipated volume brims with therapeutic exercises for people coping with death and non-death losses, providing expert guidance on how, when, and for whom they might be engaged. These versatile techniques to address shattering life events will be essential tools in every clinician's toolkit." - Donna Schuurman, PhD, director of Advocacy and Training, Dougy Center.

"Like the two volumes that precede it, New Techniques of Grief Therapy is an indispensable resource that provides practical, road-tested techniques that are firmly grounded in theory. Each technique is clearly described and, notably, is illustrated by case examples. Whether a student, a clinician, or researcher, the reader will find a treasure trove of new and useful tools to help them serve those who are grieving both death and non-death losses. This volume does much to broaden our responses to the grieving person and to serve them more creatively and effectively." - Christopher Hall, chief executive officer, Australian Centre for Grief and Bereavement.