The Child Survivor: Healing Developmental Trauma and Dissociation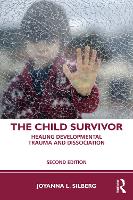 Reviews and Endorsements
"The second edition of The Child Survivor offers a wealth of insight guided by decades of clinical experience. Joyanna Silberg's EDUCATE model offers readers a practical, readily accessible approach to treating dissociation and introduces a new concept-transitional identities. This fascinating book is a must read for all therapists treating traumatized children and adolescents." - Bethany Brand, PhD, professor of psychology, Towson University.

"Joyanna Silberg's second edition of The Child Survivor is a wonderful book that should be required reading for all child therapists and trainees. The in-depth case examples illuminate key clinical dilemmas and Dr. Silberg addresses these complexities with skill and creativity." - Julian Ford, PhD, professor of psychiatry, University of Connecticut.

"Dr. Silberg masterfully expands her first edition by adding a compelling chapter on organized abuse and describing its intersection with the justice system. This is a gem for all who work with developmental trauma!" - Frances S. Waters, author of Healing the Fractured Child: Diagnosis and Treatment of Youth with Dissociation.

"Dr. Joyanna Silberg, a pioneer in the treatment of dissociative children and adolescents, has thoroughly revised and updated her now classic 2013 text. In this second edition, she describes how the Covid pandemic exacerbates the pandemic of child abuse. Dr. Silberg's book is highly readable and should be essential reading for all mental health and school professionals." - Christine A. Courtois, PhD, ABPP, author of Healing the Incest Wound: Adult Survivors in Therapy.