Making Psychotherapy More Effective with Unconscious Process Work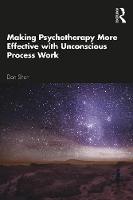 Book Details
Publisher : Routledge
Published : 2021
Cover : Paperback
Pages : 190
Category :
Individual Psychotherapy
Catalogue No : 95819
ISBN 13 : 9780367649654
ISBN 10 : 9780367649
Reviews and Endorsements
"The contents are original and an excellent blend of theory and practical tools. It's 'cutting edge' - I am not aware of anything quite like it. While it draws from Ericksonian ideas, it should have appeal to therapists across the theoretical gamut." - Michael F. Hoyt, PhD, author of Brief Therapy and Beyond: Stories, Language, Love, Hope, and Time.

"There are so many interesting things in this book that make reading it both enjoyable and educational. From Stroop tests to metaphors, to the powerful effects of imagination, you will find that this journey will reveal something more than gold or gems. It will reveal more of you, your clients and, I suggest, your life." Richard Hill, DPC, lead author of The Practitioner's Guide to Mirroring Hands.

"In the tradition of William James and Milton Erickson who believed that unconscious processes contain vital resources for problem-solving, and upon which we construct our conscious intentions, Dan Short has written an excellent book, expanding these insights for the 21st Century. He brilliantly explains through engaging stories how unconscious processes have many dimensions with various functions. In pointing out how important novelty is to unconscious processes, he offers novel and rich insights for all psychotherapists." - John B. Arden, PhD, author of Mind-Brain-Gene.

"Medicine seeks to heal physicality. Psychotherapy seeks to heal the non-material aspect of us with services designed to bring clarity and comfort when life's challenges threaten to overwhelm. Dr. Dan Short's aptly named Making Psychotherapy More Effective with Unconscious Process Work dives down into the aspect of psychotherapy spawned from beyond conscious awareness. Psychotherapists earn their mastery by riding on the invisibility of this mystery. By distilling an encyclopedia of knowledge into a 200+ page book, Short provides seasoned practitioners a way to confirm what they know about healing psychic wounds and beginners a valuable checklist of skills to acquire." - , LCSW, author of On Fertile Ground: Healing Infertility.