Managing the Aftermath of Infidelity: A Sequential Guide for Therapists and Couples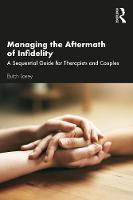 Book Details
Publisher : Routledge
Published : 2021
Cover : Paperback
Pages : 178
Category :
Family, Couple and Systemic Therapy
Catalogue No : 95694
ISBN 13 : 9781138317789
ISBN 10 : 9781138317
Reviews and Endorsements
"This book provides a highly accessible, comprehensive guide for couples and counselors navigating the murky waters of healing a relationship after infidelity. Dr. Losey presents his insights with the authority and empathy borne of many years of clinical experience and study, which makes this book uniquely suited to both the trained professional and the layperson. Any clinician looking to deepen their work with couples and infidelity would benefit from having this valuable resource in their toolkit." - Lorna Douglas, Licensed Professional Clinical Counselor, USA.

"One of the key ideas that Dr. Losey brings is that you are unable to change the past, but you have considerable control and ability to change the impact of the past. And this is what this book is all about - addressing impacts and dealing with them in a positively directional way. For the therapist, this book is a true guide with practical interventions that will help you stay focused on therapy and aware of the clues that the affair reveals about the couple's relationship, while dealing with your own prejudices on this topic." - Ana Paulino, Lifecoach, Leiria, Portugal.

"Butch Losey has produced the essential 'go-to' book for clinicians assisting couples in reviewing, reflecting, and resolving the many issues associated with partner infidelity. For clients both traumatized by infidelity or the distress of being unable to maintain monogamy in their relationships, this exceptional, concise, and simply written guide will help couples working through the rupture and repair of infidelity gain great insight and perspective. This book is now an essential part of my library of resources for working with couples and I highly recommend it." - Larry O Reilly, Senior Counsellor, Psychotherapist, and Clinical Supervisor, Ireland.

"Betrayal, hurt and pain are real when infidelity is discovered. Dr. Losey's authentic, warm, and structured guidance offers both individuals in the relationship, and the therapist facilitating the couples work, a clear and direct conceptualized framework for healing the primary relationship. In this book, Dr. Losey provides understanding and possibilities, offers reflection, and gently challenges perceptions. Couples therapists gain insight and perspective of how to navigate through the turmoil of infidelity and offer support in rebuilding trust while preserving the connection between the couple. Dr. Losey's expertise, wisdom, and compassion is a gift: for the betrayer, the betrayed, and the therapist." - Corrinna Douglas, Therapist and Facilitator in private practice, BC, Canada.