Postmemory, Psychoanalysis and Holocaust Ghosts: The Salonica Cohen Family and Trauma Across Generations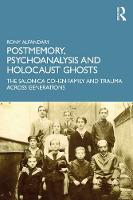 Book Details
Publisher : Routledge
Published : 2021
Cover : Paperback
Pages : 264
Category :
Psychoanalysis
Category 2 :
Trauma and Violence
Catalogue No : 95638
ISBN 13 : 9780367491741
ISBN 10 : 9780367491
Reviews and Endorsements
"How does a person respond to the fact that the formative event of their lives occurred long before they were born? Especially when that event was the Holocaust? In his immensely readable microhistory of the Cohen family from Salonica and Paris, Rony Alfandary skillfully weaves a narrative that grapples with these questions, telling the tales of testimony bearers, human memorial candles of the 2nd and future generations of a family of Holocaust survivors. Listening to voices painfully and suddenly silenced long ago, he uses a treasure-trove of documents to describe and analyze the evolution of 'postmemory', showing how it has affected the performative and memorial psyche of survivors' families, continuing on to future generations." - Judy Tydor Baumel-Schwartz, Director, Finkler Institute of Holocaust Research, Bar-Ilan University, Israel.

"Rony Alfandary's evocation of his family's impending fate in 1930s Salonica and Paris is profoundly affective. This collection of letters and photographs is powered by his acute sense of his own postmemory and his professional insight into trauma. It stands beside the work of Eva Hoffman and Sophia Richman as testimony to the perennial sense of Jewish life as (in the words of one surviving relation) 'intelligent, loved but unsafe'. Alfandary juxtaposes the candid humanity of his family's self-expression with an awareness of difference and 'the mystery of Otherness". - Richard Pine, Durrell Library of Corfu.

"In this original and interdisciplinary family history, Rony Alfandary, a clinical social worker, writer and photographer, creates a memorial for the members of his family that perished in the Holocaust. This book takes the reader from Salonica to Paris to Tel-Aviv and back again, on a journey that explores the profound role of postmemory in the lives of those born in the aftermath of the Holocaust. Alfandary is both a storyteller and a therapist, guiding the reader beyond mourning, into a space that allows for creativity and perhaps even joy." - Laura Hobson Faure, Professor of Modern History and Chair of the History of Modern Jewish Societies at the Universite Pantheon-Sorbonne-Paris 1.