Studying Lacan's Seminar VI: Dream, Symptom, and the Collapse of Subjectivity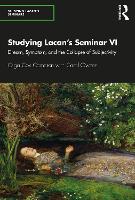 Book Details
Publisher : Routledge
Published : 2021
Cover : Paperback
Pages : 212
Category :
Lacanian Psychoanalysis
Catalogue No : 95595
ISBN 13 : 9780367353445
ISBN 10 : 9780367353
Reviews and Endorsements
"What a fantastic guide this book is, I was wishing Olga Cox Cameron could lead me through all of Lacan's seminars. This is a beautifully clear and funny and insightful reading of Seminar VI, showing us that there is no one Lacan, but many, and that self-critical attention to what is of dubious value in his work is the only way to discover what is so amazingly useful. At the same time the book is conceptually dense and enjoyable. I laughed out loud at points, especially the "Here is the News" example, and there is so much in here that I learnt and thought about." - Ian Parker, Fellow of the British Psychological Society, Emeritus Professor of Management at the University of Leicester, Co-Director of the Discourse Unit, and Managing Editor of Annual Review of Critical Psychology.

"Cox Cameron has written an elegant and clear study of Lacan's rich and complex Seminar VI. She skilfully walks the reader through the key tenets of one of Lacan's most important seminars and at the same time locates his teaching in the movement of his thought. A reflective and informed study that pairs beautifully with the original text." - Russell Grigg, co-ordinator of psychoanalytic studies at Deakin University, Australia.

"In this book on Lacan's Seminar VI, Desire and Its Interpretation, Olga Cox Cameron provides extensive, lucid, and inspired commentary on some of Lacan's densest formulations, deftly elucidating such complex notions as being, the phallus, fantasy, and the object. As she contextualizes the work Lacan does here with respect to the Seminars that preceded it and the Seminars that followed it, she nicely outlines where Lacan remains Freudian and where he parts company with Freud-as regards dream interpretation and the interpretation of works of art, for example. The material is brought alive with references to mother-child experiences and myriad literary texts. The reader will thank her for providing us with such an eye-opening guide to a sometimes murky Seminar!" - Bruce Fink, Lacanian psychoanalyst, analytic supervisor, and Professor of Psychology at Duquesne University, Pittsburgh, Pennsylvania.