Emancipatory Perspectives on Madness: Psychological, Social, and Spiritual Dimensions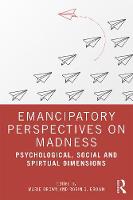 Book Details
Publisher : Routledge
Published : 2020
Cover : Paperback
Pages : 182
Category :
Clinical Psychology
Catalogue No : 95418
ISBN 13 : 9780367360160
ISBN 10 : 9780367360
Reviews and Endorsements
"For those who would like to expand their understanding of a psychological crisis beyond the bio-medical paradigm of pathology and diagnostic labels this wonderful compilation brings many enlightening perspectives to the table. Especially during this tumultuous time, it is so liberating to understand that a personal or collective crisis can have special meaning and provide an opportunity for growth and healing when supported with compassion and understanding." - Phil Borges, director of CRAZYWISE: Rethinking Madness: Psychosis and Spiritual Awakening.

"In this excellent and timely book, philosophically and spiritually minded clinicians move beyond critique to develop imaginative and generative possibilities for understanding mental difference without falling into overused, and for many deeply problematic, pathologizing
frames. It's a welcome addition!" - Bradley Lewis, MD, PhD, New York University Gallatin School of Individualized Study.

"Emancipatory Perspectives on Madness offers the reader discourses which will be quite unique to many scholars and practitioners in the field of psychosis/madness. This important contribution offers elegantly nuanced and learned observations steeped in inter-disciplinary and psychoanalytically pluralistic modes of thought. These arresting papers challenge the received wisdom on psychosis, offering insightful, creative, even generative configurations, with great care given over to contextual exigencies, such as the cultural and historical fields." - David L. Downing, PsyD, ABPP, FAPA, Los Angeles Institute and Society for Psychoanalytic Studies.

"This earnest and scholarly book is a wonderful invitation to clinicians of all spiritual leanings and people with personal experiences of psychosis to engage in a respectful dialogue about the meaning of extreme states of mind. Without this dialogue all parties who care about the meanings expressed in psychosis risk talking at each other rather than to each other, which would be a great loss for everyone. This book encourages an essential conversation among stakeholders, clinical and personal, that examines the language and ideas we use to speak about psychosis, an experience that has deep roots in our shared humanity." - Michael Garrett, MD, author Psychotherapy for Psychosis Integrating Cognitive-Behavioral and Psychodynamic Treatment.

"The ten essays contained in this engaging and thought-provoking book are a collective exploration of the many interpretations and understandings of the nature and experience of madness that address the importance of exploring and understanding psychosis, not only from the familial and personal perspective, but also from the political, historical, socio-cultural, and spiritual." - Claire Bien, MEd, author, Hearing Voices, Living Fully: Living with the Voices in My Head.