Translation/Transformation: 100 Years of the International Journal of Psychoanalysis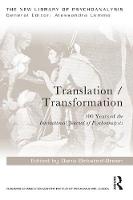 Book Details
Publisher : Routledge
Published : 2021
Cover : Paperback
Pages : 328
Category :
Psychoanalysis
Catalogue No : 95409
ISBN 13 : 9780367563325
ISBN 10 : 9780367563
Reviews and Endorsements
"More than about literal translation, this collection of essays is about the movement of ideas from one culture to another, from one generation to another. Thus temporality infuses this collection, whose original in-depth research findings , by creative authors with deep knowledge in their respective fields (psychoanalysis, art history, archaeology, musical composition) retrace and rediscover the creative journey of psychoanalysis from Vienna to London with its tragic historical background. And so too it considers how cultures take into consideration essential issues in psychoanalysis from other cultures and transform them: translation is transformation. The theme of the Oedipus enigma and excellent reflections on art intermingle in this beautifully illustrated book, in which Dana Birksted-Breen blends these themes in her usual expected talent to conceive and design a collection as this remarkable one and in her revealing introduction. This centenary and anniversary collection of essays marks an historical and seminal milestone in the developing history and the continued evolution of psychoanalysis. A book not to be missed...." - Haydee Faimberg MD, Training and Supervising Analyst, SPP, APA, International Distinguish Fellow of BPAS.

"'Language has been invented, translation can be achieved, musical and mathematical notations exist, men compose and paint. And now psycho-analysis attempts to elucidate the barriers and links that hinder or promote the relationships that require a capacity for communication' (Bion, Cogitations). The title of the book to celebrate the 100th anniversary of the IJP - and I would add the word transmutation - faithfully reflects the task that Freud assigned to psychoanalysis. The task of the IJP is well represented in the words of the linguist Hagege 'it is not only languages that are translated, but also habits and intellectual processes'". - Prof. Dr. Jorge Canestri, Training and Supervising psychoanalyst AIPsi, APA, Associate Editor of the IJP.

"This multi-voice book highlights the foundations upon which the reputation of The International Journal of Psychoanalysis is built. Since the time of Freud, this Journal has become a reference for English-speaking psychoanalysts, its primary destination, and then for each psychoanalyst all over the world. In addition to the richness of its professional, historical and cultural roots highlighted here, its value derives not only from the independence that an anonymous peer review process provides, but also from a non-partisan approach that respects everyone's positions, in the tradition of the British Psychoanalytic Society responsible for its management." - Jean-Michel Quinodoz, Swiss Psychoanalytical Society, Editor for Europe 1994-2003.