Practicing Psychotherapy: Lessons on Helping Patients and Growing as a Professional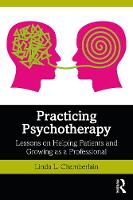 Book Details
Publisher : Routledge
Published : 2020
Cover : Paperback
Pages : 168
Category :
Individual Psychotherapy
Catalogue No : 95372
ISBN 13 : 9780367373702
ISBN 10 : 9780367373
Reviews and Endorsements
"In Practicing Psychotherapy, Dr. Chamberlain provides a 'true north' for students of psychotherapy and early career professionals, as well as encouragement and a challenge to seasoned professionals. The text offers a compelling argument, illustrated with vivid and moving anecdotes, that our best work depends on continuous development of a special kind of compassion, muscular enough to dismantle outdated concepts ('we' treat 'them') and tender enough to continually nurture our own and others' flawed, brilliant, messy, and creative humanity." - Jonathan Richard, Psy.D., is a Clinical Psychologist in Denver, CO.

"Essential book for ANYONE who wants to be-or is-a counselor or therapist! Contemporary mental health training often emphasizes evidenced-based methods matched nicely to diagnoses. It often looks so easy. But this highly structured approach often leaves counselors and therapists unprepared for life 'out there' where there are no manuals or roadmaps. The results can be devastating emotional burnout or much worse. This book may be just the needed antidote. Dr. Chamberlain shows us glimpses of life as a real therapist, working with volatile, occasionally joyful, difficult, sometimes ungrateful, and all-too-human clients. Read this book to view the mind and heart of a master clinician as she recounts her journey across the lifespan, with skills that treatment manuals can never teach. Read it again to absorb the clinical wisdom on each page. But most of all, if you believe therapy is your calling, you need to spend time with this book and reflect carefully whether this path is really yours. This lifetime journey is magnificent, but it is not for the faint-of-heart." - Bill McCown, Ph.D., Clinical Psychologist, coordinator, Department of Psychology and associate dean for Research, University of Louisiana at Monroe.

"Exceptional book giving insight to the experiences of a psychotherapist! Dr. Chamberlain provides a glimpse into the world of a professional therapist. Clients seek counseling due to various stressors, and this book can help new psychotherapists learn how to be open-minded. Schools of psychotherapy cannot prepare students for the various challenges clients may display. Dr. Chamberlain's book is an excellent read for new clinicians in the field of psychotherapy." - Eddie Williams, Ed.D., LMHC, NCC, MCAP, HS-BCP, program director/assistant professor, Human Services, Pasco-Hernando State College.