The Spiritual Psyche in Psychotherapy: Mysticism, Intersubjectivity, and Psychoanalysis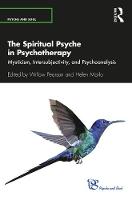 Book Details
Publisher : Routledge
Published : 2020
Cover : Paperback
Pages : 226
Category :
Individual Psychotherapy
Category 2 :
Psychoanalysis
Catalogue No : 95357
ISBN 13 : 9780367542559
ISBN 10 : 9780367542
Reviews and Endorsements
This is an amazing book. A series of wondrous explorations of the beauty and range of spiritual-psychological dimensions of human experience, their interaction, interface and contributions. I thought of the words 'psychoanalytic spirit' as a channel that gains support and nuance from clinical, philosophical and mystical studies this work opens, at once practical and expressive, poetical and pragmatic. A profound affirmation of human life, who we are, who we can be. It was a relief to feel open support for the positive energy of kindness and care our psyche can breathe, so needed now when too often we tear ourselves and each other apart. This is a unitary work that gives a multitude of tendencies and capacities their due and situates them in a larger whole. - Michael Eigen, PhD., author of Faith, Contact with the Depths and The Challenge of Being Human.

The ten chapters of this book circumambulate ways that spirit emerges autonomously to illuminate the process of psychotherapy. Through specific clinical examples, the authors make clear that analytically-oriented treatment, whether grounded in the affects of the transference or in dream images, will not be truly transformative unless it respects what psyche wants us to pay attention to from the standpoint of the eternal. The stories they tell are profound, demonstrating not only that the spiritual dimension of psyche affects the way we live, but also that the end of life insists on this level of completion. With a wonderfully orienting introduction by co-editors Willow Pearson and Helen Marlo. - John Beebe, author of Integrity in Depth.


The Spiritual Psyche in Psychotherapy: Mysticism, Intersubjectivity, and Psychoanalysis is a rich, thoughtful and thought-provoking contribution to the analytic field at a moment when contemporary psychoanalysis has begun to embrace the challenge of opening to the reality of mystical experiences in clinical practice-a challenge that has had a long, complex and controversial presence and history in psychoanalysis, ever since it was introduced into psychoanalysis by Freud in 1921. Defined through ontological 'being' and 'becoming' rather than 'knowing,' the mystical sensibility woven by the ten chapters, deepens the very ground of clinical work and delves into a yet unknown and more radical dimension of therapeutic interconnectedness and the spiritual nature of the human psyche. - Ofra Eshel, faculty, training and supervising analyst, Israel Psychoanalytic Society; head, "Independent Psychoanalysis - Radical Breakthroughs", Tel-Aviv University; author, The Emergence of Analytic Oneness: Into the Heart of Psychoanalysis.