Understanding and Caring for People with Schizophrenia: Fifteen Clinical Cases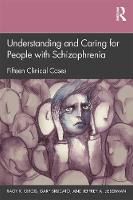 Book Details
Publisher : Routledge
Published : 2020
Cover : Paperback
Pages : 136
Category :
Clinical Psychology
Catalogue No : 95340
ISBN 13 : 9780367369996
ISBN 10 : 9780367369
Reviews and Endorsements
"Written by the pre-eminent leaders in the field of schizophrenia research with decades of clinical experience, this user-friendly book offers a cutting-edge, evidence-based compendium of all things psychosis - symptoms, treatment, diagnosis, and prognosis. Written for both the avid clinician and concerned family member, the authors seek to instill hope and discuss the effectiveness of treatment to change the course of this potentially devastating disease and, when possible, prevent the onset of illness altogether. A must-have for all psychiatrists!" - Anna Yusim, MD, Chief Psychiatrist, Upper East Side Psychiatry; lecturer, Yale University Department of Psychiatry; distinguished fellow, American Psychiatric Association; Author, Fulfilled.

"The title of this wonderful book, 'Understanding and Caring for People with Schizophrenia: Fifteen Clinical Cases', does not begin to do justice to the breadth of topics and issues it covers. Besides focusing on the symptomatic presentation and treatment options (including medication, psychotherapy, and psychoeducation) for the prodromal, first-episode, and chronic stages of Schizophrenia, it expertly covers a wide range of other important topics, such as the heritability of Schizophrenia, violence and suicide, the impact of drug use, as well as sections focusing on important symptoms such as the various types of delusions (including exotic ones such as the Capgras delusion), hallucinations, negative symptoms and cognitive deficits. What makes the information contained in this book come alive is its reliance on interesting and compelling case material to illustrate the various topics, which should make this book especially appealing to students, clinicians-in-training, and patients and family members." - Michael First, MD, professor of Clinical Psychiatry, Columbia University.

"Dr. Girgis and colleagues have produced a very useful addition to the literature on schizophrenia. The case history format makes the disease and its associated problems, come alive. The book will be especially useful for trainees in all mental health disciplines who wish to better understand this fascinating, if sometimes devastating, disease. The book is also accessible for individuals with schizophrenia and their families who wish to do a deeper dive into its details and to see that some cases are indeed treatable. Strongly recommended." - E. Fuller Torrey, MD, author, Surviving Schizophrenia and American Psychosis.

"These internationally renowned mental health experts have written a remarkable book - one that is compelling to read, compassionate, and highly educational. Written without jargon, the text is easily understood by the general public while at the same time providing concise clinical pearls that will help experienced clinicians provide even better care of their patients. The approach of starting each chapter with a detailed case illustration - often in the patient's voice - followed by discussion is both absorbing and illuminating. Each case provides a resounding message of hope - that recent advances in mental health have done much to enhance the prognosis and lives of those with schizophrenia." - Brian A. Fallon, MD, MPH, professor of Clinical Psychiatry, director of the Center for Neuroinflammatory Disorders and Biobehavioral Medicine and director of the Lyme and Tick-Borne Diseases Research Center, Columbia University.

"Written by leading researchers of schizophrenic spectrum disorders, using 15 case studies, Drs. Girgis, Brucato and Lieberman provide wisdom and illuminate the complexity and heterogeneity of schizophrenia. The rich and eloquently written case vignettes capture the human dimension of the illness while at the same time deepening one's clinical understanding, and provide evidence as to the effectiveness of treatment at different phases of the illness. This scholarly book is a must read for clinicians, academicians, and anyone interested in schizophrenia." - Ali Khadivi, PhD, ABAP, professor of Psychiatry and Behavioral Sciences, Albert Einstein College of Medicine.