Imagination, Creativity and Spirituality in Psychotherapy: Welcome to Wonderland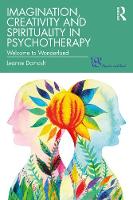 Book Details
Publisher : Routledge
Published : 2020
Cover : Paperback
Pages : 188
Category :
Individual Psychotherapy
Catalogue No : 95305
ISBN 13 : 9780367280031
ISBN 10 : 9780367280
Reviews and Endorsements
"As the relationship between our body and creative imagination moves increasingly to center stage in the research of our human condition - in studies of trauma, creativity, psychotherapy, placebo, biology, artificial intelligence and the arts - along comes a book that pulls it all together. With scholarly accuracy and solid research into a wide variety of fields that underlie theory formation in the study of psychotherapy as a creative art, Dr Leanne Domash has written a book I had been waiting for. While eminently practical and full of case examples, it shows scientific undercurrents in the rapidly changing science of psychotherapy and creativity. Their foundations in neuroscience, biology and chaos theory are explained in an elegant and fully embodied style we can all understand." - Robert Bosnak, PsyA, Jungian psychoanalyst, originator of the Embodied Imagination method; Teaching Instructor at SUNY Upstate Medical University, Department of Psychiatry.

"If I had chosen another life path as a religious leader, I would bless this book for tackling the role of uncertainty and faith within psychotherapy. And there is so much more to be had. Author Leanne Domash covers many thorny topics at the heart of healing-the role of desire, inspiration, surprise, strangeness, intuition, and wonder. This is a Wonderland of a book, a dream space, an alchemical kettle for simmering creativity and imagination. By revealing her own doubts and vulnerabilities along the way, Domash walks her talk while providing a unique and persuasive synthesis of research that points towards an inherently creative universe, right down to the cellular level. This is a must read for all therapists wishing to enhance their creative faculties." - Terry Marks-Tarlow, PhD, clinical psychologist, Santa Monica, CA; author of Psyche's Veil, Clinical Intuition in Psychotherapy and A Fractal Epistemology for a Scientific Psychology.

"Drawing upon thousands of years of insights into the vast potential of human imagination from the Kabbalists and Maimonides to current psychoanalytic theory and neuropsychology, Leanne Domash offers us not simply a book to read but a space in which to explore and expand our notions of psychotherapeutic healing, the use of dreams, the vast potential locked in the therapeutic relationship and the emergence of the therapist's own unique voice. This profoundly rich book compellingly opens up a unique perspective on the many ways that imagination and creativity are at the core of psychotherapeutic healing and authentic living itself." - Robert Grossmark, PhD, ABPP, NYU Postdoctoral Program in Psychoanalysis and Psychotherapy; author of The Unobtrusive Relational Analyst: Explorations in Psychoanalytic Companioning.