Sexual Boundary Trouble in Psychoanalysis: Clinical Perspectives on Muriel Dimen's Concept of the "Primal Crime"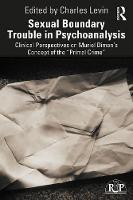 Book Details
Publisher : Routledge
Published : 2020
Cover : Paperback
Pages : 200
Category :
Psychoanalysis
Catalogue No : 95250
ISBN 13 : 9781138926813
ISBN 10 : 9781138926
Reviews and Endorsements
"Sexual boundary violations carry not only the dread of rupture, but also a haunting of the uncanny, of the unthought known-an echo of the big bang that was muffled by all our fallen progenitors who married their patients in an attempt to morally domesticate the forces they could not resist. As therapists, we all have been (or still are) patients-wounded healers with visceral sense memories of those times our own treatments failed, or worse, collapsed around us. Every accusation of a boundary violation disturbs the unsettled peace each of us has made with our own treatment history-each revelation serving as a stark reminder of the ultimate fragility of analytic work, no matter how honorably conducted.

That is why this book hurts. Wrapped in the melancholy of Muriel Dimen's passing, and fueled by a commitment to redress the isolation she endured as a whistle-blower, the contributors to this volume exhaustively wrestle with the hydra-headed pathogen that Dimen labelled 'the primal crime'. 'Monumental,' 'egregious,' 'catastrophic,' 'demonic'-this is a forlorn sampling of the adjectives these anguished and gifted authors feel moved to deploy so as to capture the tsunami of destruction that results from the treachery of a sexual boundary violation.

For the analysand, an erotic enactment spells the collapse of the state of enchantment that suffuses the 'real/not real' tension of transitional space, which is what gives imagination a chance. Coming out of this perverse scenario (a state of mental enslavement) is like escaping from a cult-instead of being helped by therapy, the patient has been consumed by it.

For the community, the revelation of a boundary violation destabilizes everyone within earshot (rumor and gossip travel fast), causing serious moral harm, but also placing a moral demand upon a professional collective not schooled-or prepared-to think and act as a group. Demonization and banishment (Dimen's 'Rotten Apples'), serve to defensively separate 'us' from 'them,' even though each of us battles a queasy state of identificatory dread-there is always the criminal within.

Modeling what it takes to think under fire and against shame, these papers shine with such deeply considered analytic insights. Painful and discerning in equal measure, they document and theorize the unfolding of an abomination-and by articulating what has been lost or spoiled, the authors rethink what is crucial to an analytic experience-what is sacred.

In taking up the darkness of this open secret, they reclaim the analytic project in all its vulnerability and daring." - Virginia Goldner, PhD, Faculty member, NYU Postdoctoral Program in Psychotherapy and Psychoanalysis, and Co-Executor, Muriel Dimen literary estate.

"Sexuality has always been at the heart of psychoanalytic theory. It is ironic, in this regard, that sexual acts between analyst and patient have historically been undertheorized. For the most part, such transgressions have been covered up, ignored, denied, or simply not discussed under the umbrella of 'confidentiality.' By courageously writing about her own experience with her male analyst, Muriel Dimen opened the door for theorizing in a way that has enlightened the entire profession. Charles Levin had the wonderful idea of collecting some of the leading thinkers in psychoanalysis to share their perspectives on this ongoing problem in our field. This superb set of essays, devoted to the memory of Muriel, reflects the current state-of-the-art in psychoanalytic discourse. Sexual Boundary Trouble in Psychoanalysis is an extraordinary book that should be read by psychoanalysts, psychotherapists, and all others who care about the future of the psychoanalytic enterprise." - Glen O. Gabbard, author of Boundaries and Boundary Violations in Psychoanalysis.