Coaching with Research in Mind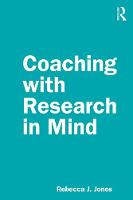 Reviews and Endorsements
"An outstanding book from one of the leading coaching researchers in the world. Rebecca Jones provides a comprehensive coverage of the state of play in coaching, helping practitioners and scholars alike grasp just how far we have come over the past two decades in coaching research to establish coaching as an evidenced based discipline. This book is an essential purchase for your coaching library." - Professor Jonathan Passmore, Director, Henley Centre for Coaching, Henley Business School.

"Dr Jones has become a leading authority on the measurement of coaching outcomes, backed by her vast knowledge of the academic literature in the field. Coaching with Research in Mind brings this research base to illuminate all aspects of the coaching engagement. Wonderful real-life vignettes from coaching professionals bring it all to life. A vital book bridging the gap between research and practice, which is so desperately needed in our field!" - Brian O. Underhill, Ph.D., Founder & CEO, CoachSource.

"This book corroborates a much-needed message - that coaching and research go hand in hand. A must read for academics and practitioners wishing to take an evidence - informed perspective." - Professor Almuth McDowall, Professor of Organisational Psychology, Birkbeck University of London.

"This excellent book takes the reader on a valuable journey, closely examining published research and linking it to coaching practice. Not only is it easy to read, it can inform practice for both trainee and experienced coaches." - Professor Stephen Palmer, Wales Academy for Professional Practice and Applied Research.

"Far too much of coaching is based on supposition, superstition and ritual, with little or no evidence base. Part of the cure is for coaches to adopt a more evidential approach to their practice - and this book shows them how!" - Professor David Clutterbuck, EMCC special ambassador; visiting professor, Henley Business School.