Psychoanalysis from the Inside Out: Developing and Sustaining an Analytic Identity and Practice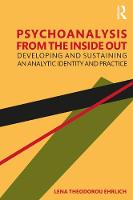 Book Details
Publisher : Routledge
Published : 2020
Cover : Paperback
Pages : 170
Category :
Psychoanalysis
Catalogue No : 95206
ISBN 13 : 9780367505196
ISBN 10 : 9780367505
Reviews and Endorsements
"Through her sensitive clinical practice, Lena Ehrlich shows how the psychoanalytic process begins and deepens in the analyst's mind and explores our resistances to letting it come to life and grow. Her writing has strengthened my own identity and practice as psychoanalyst. It has also informed our research in the Working Party on Initiating Psychoanalysis of the European Psychoanalytic Federation; in turn, our findings have confirmed those from her fine clinical practice. Even on the difficult topic of teleanalysis she is well-informed, cogent and thought-provoking. It is a real treat to have her work collected in this book, which will be a must for all psychoanalysts." - Bernard Reith, President of the Swiss Psychoanalytical Society.

"In lucid prose, Lena Ehrlich conveys the multitudinous ways an analyst develops her capacities to face her own conflicts, resistances, and to tolerate her own affect and intense countertransference reactions. Simultaneously, she shows us her belief in her patients' capacities to grow and change. These two developments within herself combine to create the conditions for the development of a deep, intimate analytic process to evolve. Her openness in facing her own struggle to form an analytic identity provides a model of self-scrutiny that should be inspiring to all clinicians and especially for young analysts." - Judy L. Kantrowitz, Training and supervising analyst, Boston Psychoanalytic Society and Institute.

"Based on extensive experience and written with uncommon clarity, this timely book demonstrates convincingly that psychoanalysis, despite its troubled history and many current challenges, 'has the potential to transform us at an emotionally cellular level, helping us be present and sturdy inside ourselves and better able to connect with and love others.'" - Howard B. Levine, MD, Editor-in-Chief, The Routledge W. R. Bion Studies Series.